Students' message taken to Westminster by Sir Gary Streeter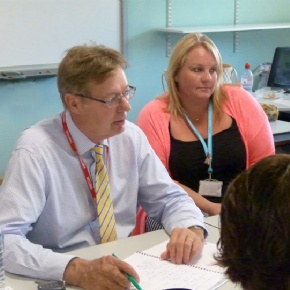 Staff and students at Ivybridge Community College were delighted to learn that important issues they had raised and discussed during meetings last year with Sir Gary Streeter to gather views concerning the Green Paper based around children's mental health provision, had been presented in a speech at Westminster.
Speaking in Westminster on Tuesday, 7 May 2019, Sir Gary Streeter, Conservative MP for South West Devon said,
"I ask the Minister to join me in thanking the students at Ivybridge Community College—Lucy, Amelia, Evie, Ela, Lilana, Izzy, Annabelle, Nell, Ella, Katy, Katie and Cameron—for being so clear and robust about these important issues. They all contributed to an excellent discussion.
Can I invite the Minister to fully take on board the comments made by those excellent pupils?
They are pupils at one of the largest and most successful state comprehensive schools in the UK, which has been outstanding for as long as I can remember.
They are intelligent and articulate young people, who demonstrated an extraordinary understanding of the issues affecting them.
They were able to talk confidently and openly about how they feel their schooling could be improved, in the presence of their teaching staff.
We should take notice of those fine young people and work as hard as possible to deliver for them."
Please click here to read the full transcript.