Giving Students the Gift of Education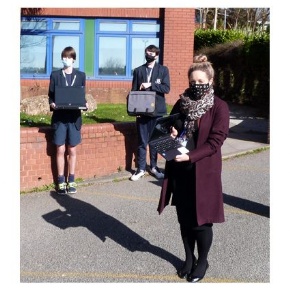 On Friday, 26 February, staff and students at Ivybridge Community College were delighted to receive ten laptops kindly gifted by the Rotary Club of Ivybridge.
Caroline Johnson, Associate Leader, and Year 11 students Lewis and Josh, received the laptops from Paul Fletcher of the Ivybridge Rotary Club's 'Online Learning Project' and Colin Beresford-Jones of The Beresford-Jones Trust.
Rotary Clubs across the country have been collecting refurbished laptops and distributing them to schools since the last lockdown and the College was fortunate to receive 15 of these last summer. As our Sixth Form students were on a remote learning rota for the first term, many of these laptops went towards supporting students who did not have suitable devices.
The ten most recent laptops are a blend of six refurbished devices and four brand new laptops and have been gratefully received by the College.
The brand new laptops were purchased through generous donations from The Beresford-Jones Trust, which is a Plymouth based charity, whose mission is to support the promising young people of Plymouth and the surrounding areas, towards becoming more engaged citizens of the future.
Although we are looking forward to welcoming students back to face to face learning from Monday, 8 March, we know that some form of remote learning will continue for a while longer and these devices will help to support students in the event of them having to self-isolate or learn from home. Whilst students and teachers cannot wait to return to face to face teaching, we have all learnt a lot about embracing technology, and there have been some changes that will continue to support our way of working. We are certain that even in a post-Covid era we will be able to use these devices to support students who really need them.
Caroline Johnson, said, "We are incredibly grateful to Dr Paul Fletcher and the whole of the Ivybridge Rotary Club. They have worked tirelessly to collect and refurbish these laptops and it was a wonderful surprise to also find that four of these laptops had been purchased brand new for our students, through funding from The Beresford-Jones Trust."