Ivybridge Health and Fitness Centre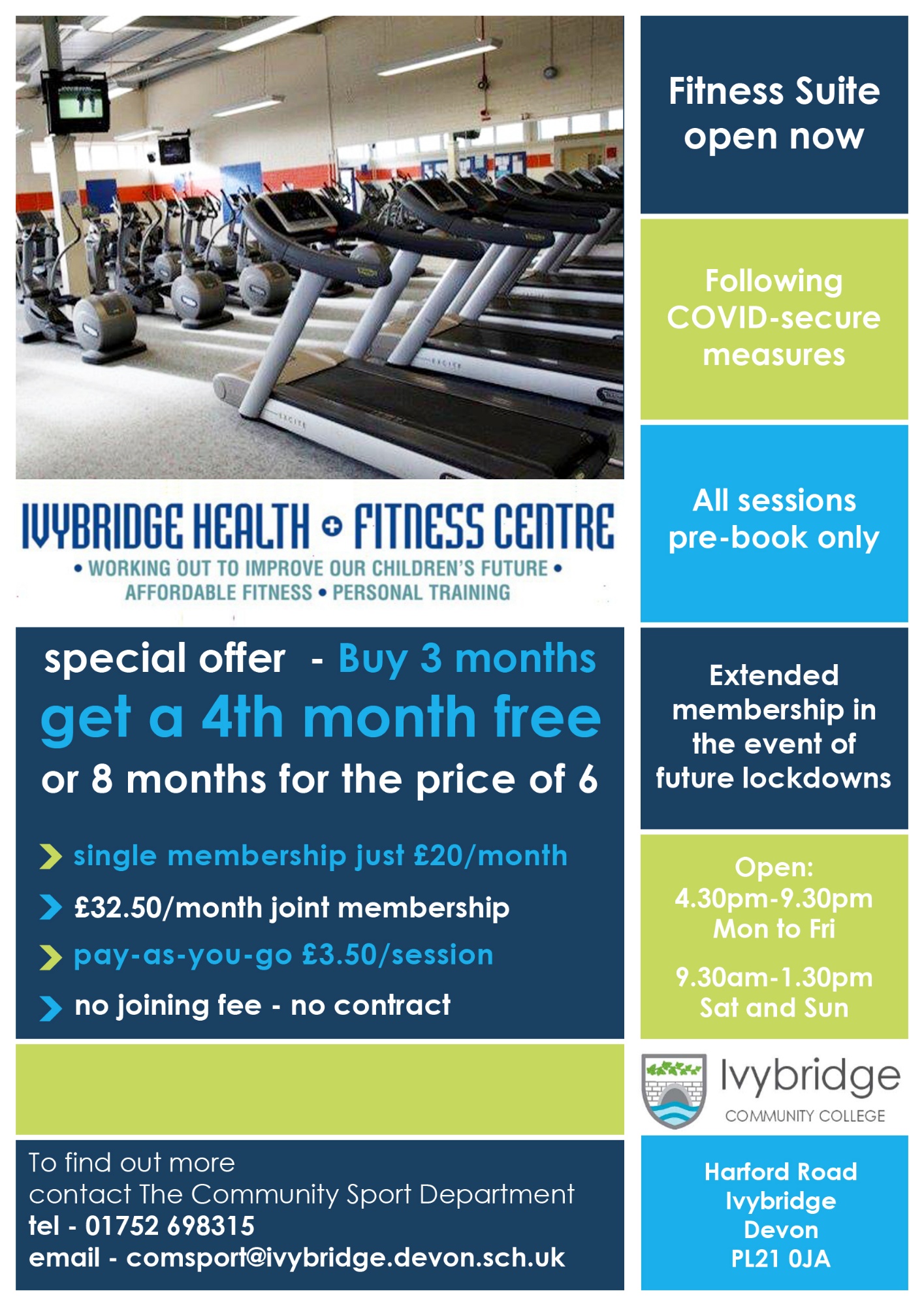 The College has a fully equipped 42-station Fitness Suite and Strength Training Room. The Centre offers affordable membership with no joining fee, long-term contract or cancellation fee. The Centre's Fitness Instructors are fully qualified, experienced and well-trained in meeting the needs of the individual. Members have to be over the age of 16 years and must have completed statutory education. Before using the facilities, a physical readiness questionnaire and centre induction must be completed. When not in use, members do have access to the Strength Training Room (Studio 3) after having completed a lifting induction.
X10 Concept2 rowing machines

X10 Technogym cross trainers

X5 Technogym treadmills

X1 Technogym 5 station cable jungle

X2 Technogym upright recumbent cycles

X2 Technogym recumbent cycles

X1 Technogym chest press

X1 Technogym hand bike

X1 Technogym shoulder press

X1 Technogym low row

X1 Technogym leg press

X1 Technogym radiant machine

X2 Abi Cradles
Fitness Suite Hiring Prices
Pay as you go membership £3.50 per visit
Monthly student membership £15
Monthly non-student membership £20
Joint monthly membership £32.50.
We offer no joining fee, long term contract or cancellation fee.
Opening Hours
The Fitness Suite is open from 4.30pm to 9.30pm weekdays and from 9.30am to 1.30pm weekends. Please be aware that the last admission is at 9.00pm weekdays and 1.00pm weekends. We are unfortunately closed on Bank Holidays