Gymnastics Academy
Gymnastics Academy
Ivybridge Community College Gymnastics Academy believes in promoting self-esteem and creating self-confidence in children through the sport of Gymnastics. The teachers at the College provide skilled and fun instruction to all children.
We encourage children to achieve their potential and we regard safety as our highest priority. We believe that Gymnastics can give your child an advantage in their sporting, academic, physical, mental, and social development.
Our Values
To provide a safe and structured environment.
To teach and coach Gymnastics at a level appropriate to the individual gymnast.
To ensure every gymnast reaches their potential.
To provide an enjoyable learning environment.
To provide competition opportunities at a level appropriate for all gymnasts.
To develop a child's confidence and self-esteem.
To enable others interested in the sport to learn basic coaching skills and attend courses to further their knowledge.
Gymnastics Academy Structure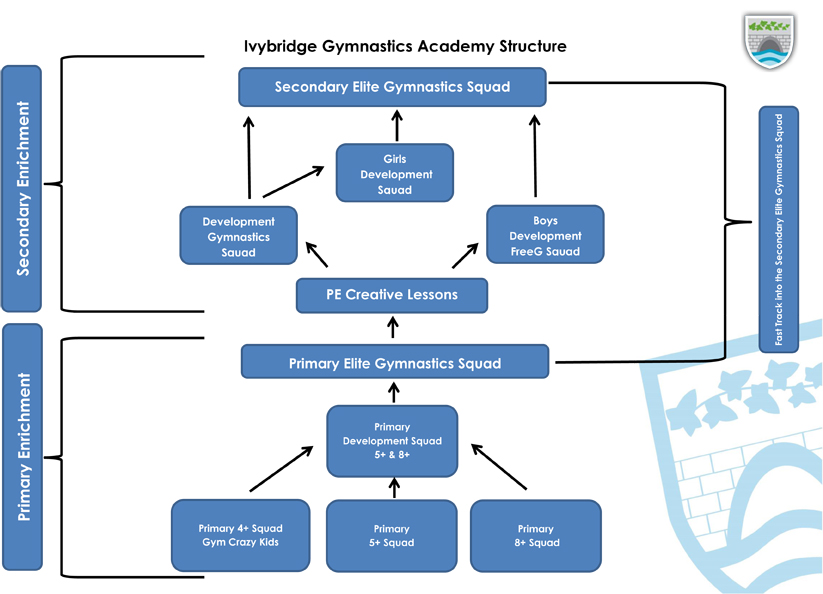 The Benefits of the Gymnastics Academy
• Develops co-ordination and flexibility • Develops strength and power • Increases self-esteem and confidence • Develops skills to enhance other sports • Fosters interaction with peers • Provides the foundation for fitness and fundamentals of movement • Teach young people to learn, listen, and follow instructions • Improve fine motor skills • Improve self-discipline • Promotes a healthy lifestyle • Raise expectations and positive approach to learning • Receive training from experienced British-Gymnastics-qualified coaches • Learn the value of team cohesion and social support • Compete in local, regional, national, and international competitions • Represent the College and perform in shows, festivals, events and celebrations • Perform in the College's Performing Arts Show
External Links
| | | | |
| --- | --- | --- | --- |
| Name of Club | Address | Telephone Number | Email Address |
| Plymouth Swallows | Plymouth PL6 8BE | 01752 782345 | |
| Zero Gravity | Saltash PL12 6TW | 01752 842517 | |
| Tumbling Teddies Gymnastics | Plymouth PL7 1YB | 07432 710106 | |
| Rebound Gymnastics Club | Plymouth PL4 7PG | 07967 544353 | admin@reboundgymnasticsclub.co.uk |
Overview of Gymnastics Elite Squad Training
Students will experience a part-time Gymnastics programme during their PE lessons. This will comprise:
2 or 3 x Core PE lessons with their PE teacher
1 x Strength and Conditioning Session (Year 7 only)
1 or 2 Specific Sports Academy training sessions