Gymnastics Academy
Gymnastics Academy
Ivybridge Community College Gymnastics Academy believes in promoting self-esteem and creating self-confidence in children through the sport of Gymnastics. The teachers at the College provide skilled and fun instruction to all children.
We encourage children to achieve their potential and we regard safety as our highest priority. We believe that Gymnastics can give your child an advantage in their sporting, academic, physical, mental, and social development.
Ivybridge Gymnastics Academy trains both boys and girls, places an emphasis on catering for all levels of ability, and is currently the most successful school gymnastics team in the UK.
Our Values
To provide a safe and structured environment.
To teach and coach Gymnastics at a level appropriate to the individual gymnast.
To ensure every gymnast reaches their potential.
To provide an enjoyable learning environment.
To provide competition opportunities at a level appropriate for all gymnasts.
To develop a child's confidence and self-esteem.
To enable others interested in the sport to learn basic coaching skills and attend courses to further their knowledge.
Gymnastics Academy Structure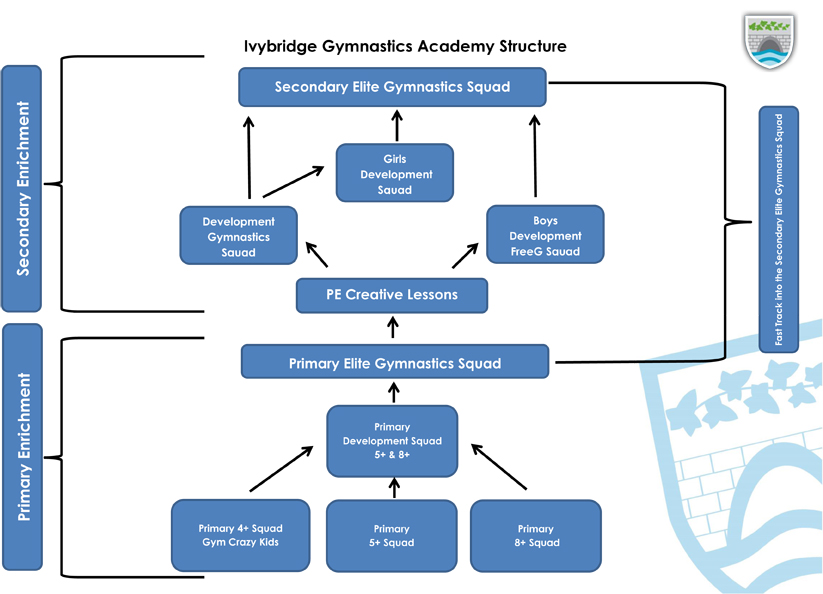 The Benefits of the Gymnastics Academy
• Develops co-ordination and flexibility • Develops strength and power • Increases self-esteem and confidence • Develops skills to enhance other sports • Fosters interaction with peers • Provides the foundation for fitness and fundamentals of movement • Teach young people to learn, listen, and follow instructions • Improve fine motor skills • Improve self-discipline • Promotes a healthy lifestyle • Raise expectations and positive approach to learning • Receive training from experienced British-Gymnastics-qualified coaches • Learn the value of team cohesion and social support • Compete in local, regional, national, and international competitions • Represent the College and perform in shows, festivals, events and celebrations • Perform in the College's Performing Arts Show
Teaching and Coaching Staff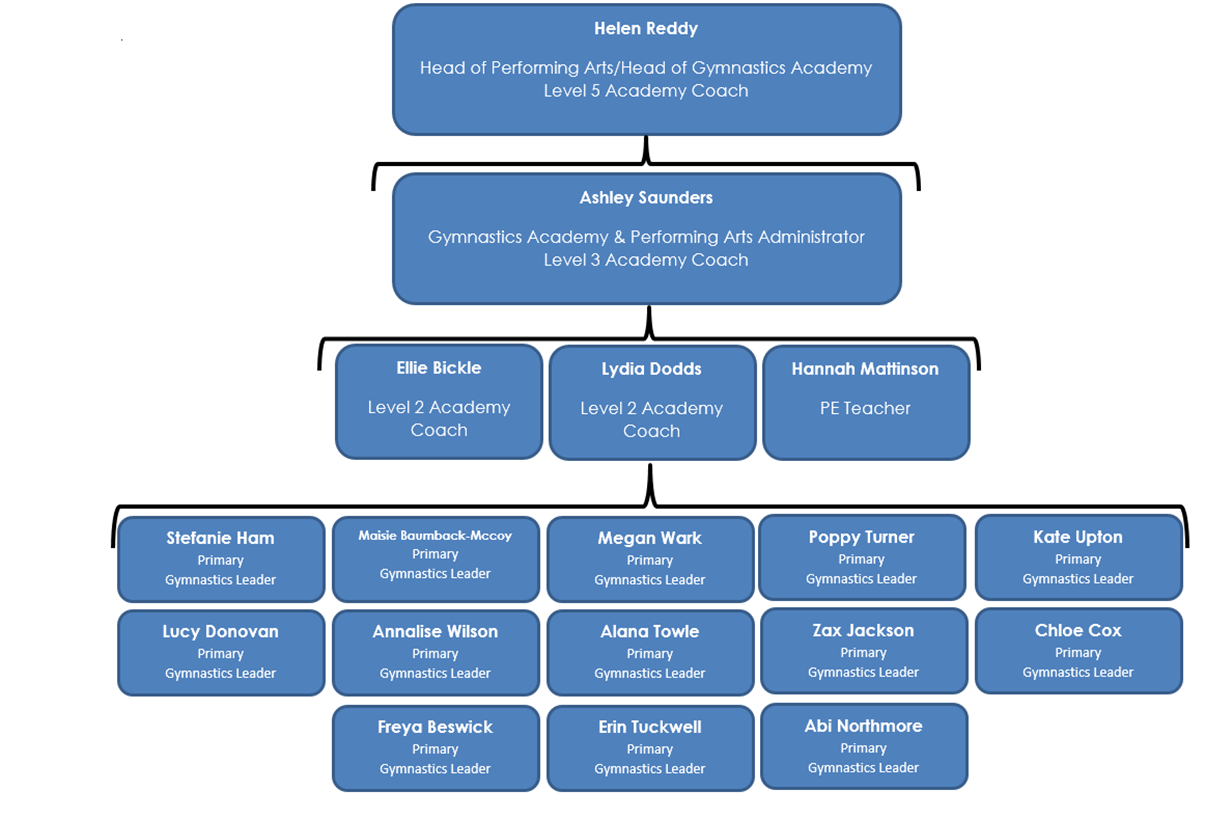 Gymnastics Provision
The Academy specialises in Artistic Gymnastics (floor and vault only), General Gymnastics and Acrobatic Gymnastics.
Artistic Gymnastics is the Olympic sport for men and women performed on apparatus and judged individually, by event, in the All-Around and by team. Men's events are floor exercise, horizontal bar, parallel bars, pommel horse, still rings and vault. Women's events are vault, uneven bars, balance beam and floor exercise. Ivybridge Gymnastics Academy trains and performs on equipment such as floor, vault and rebound.
General Gymnastics is a non-competitive form of gymnastics featured in festivals and displays. It culminates in a world festival of gymnastics, the World Gymnaestrada, which is held every four years and attracts tens of thousands of participants from many countries.
Acrobatic Gymnastics is a competitive gymnastic discipline where partnerships of gymnasts work together in pairs and groups to perform routines. These routines are set to music and consist of acrobatic moves, individual gymnastic elements and choreography. Gymnasts perform balance and dynamic moves, which include partner balances, throws, somersaults and catches.
Gymnastics is thrilling to watch, and while international-level gymnasts perform complex and exciting skills, beginner and developing gymnasts also get a great deal of benefit from the sport too, learning valuable motor skills and how to work together in groups.
About the Gymnastics Squads
Primary Gymnastic Squads
Our Primary squads are fun classes that focus on core skills and developing a passion for Gymnastics. Jumps, rolls, balancing, vaulting, flexibility work, acrobatics and the possibility of taking part in their first 'club' Gymnastics competition all form part of this enjoyable group.
There are six classes that focus on varying ages and levels of ability, including our Primary Development Squad and Primary Elite Squad sessions. Gymnasts in the Primary Elite Squad are seen as having the potential to compete in external competitions and shows and have the opportunity to join the Secondary Elite Squad.
Development Squad
Our Development Squad is designed to introduce Ivybridge Community College students to this enjoyable sport. It focuses on fun, developing core skills and participation in the annual Performing Arts Show. There is an emphasis on general gymnastics, including body awareness, fitness, jumps, rolls, balancing, vaulting, flexibility work and acrobatics. The Development Squad also offers the possibility for students to take part in their first 'club' Gymnastics competition.
Boys Development Squad (FreeG)
Focusing predominantly on developing skills on floor, vault and apparatus. The boys also have the opportunity to perform in FreeG. FreeG is about total freedom. Combining elements from martial arts and stunt performance as well as Gymnastics, there are no rules or competitions. You learn the tricks you want to learn, pick the lines you want to pick, and express yourself how you want.
Gymnasts in these classes are offered the opportunity to compete for the College at British Schools Gymnastics competitions. They also take part in challenging group routines as part of the College's annual Performing Arts Show.
Acrobatics Gymnastics
Secondary Elite Squad gymnasts train an additional one hour per week, and earn the right to compete for the College in regional and national competitions and form the display team that perform in high-profile displays and events.
The Elite Squad
Gymnastics plays a huge part in the academy structure at the College. The Gymnastics Academy involves selected students training during curriculum time. A minimum of one PE Elite Squad Block is required to be a part of the Elite Squad.
Gymnastics Kit
Students have the opportunity to purchase gymnastics kit for their training and competitions. Two kits are available
Away Kit - Competition Attire (black and green O'Neils and leotards (A Star)
Home Kit – Ivybridge Community College Elite Squad Attire (blue kit) worn in PE lessons
Students are not to wear the competition attire into PE lessons, but the blue kit is allowed to be worn in PE lessons. A completed clothing order form will be required to place an order for the green and black kit (see attached clothing order). If gymnasts are unsure on clothing sizes, please leave the form blank and every effort will be made to ensure the right size is ordered. Please hand all forms and payment in an envelope to
Mrs Reddy. Please see the clothing section for the blue kit further in this document.
Training Kit for all Elite Squad Sessions
Girls – Any leotard or crop top (under elite squad green or blue t-shirt/tracksuits) and A Star Shorts
Boys – Any leotard, vest top (under elite squad green or blue t-shirt/tracksuits) and A Star or PE Shorts
Gymnasts are not allowed to train in t-shirts or leggings after the warm-up.
Elite Squad - Away Kit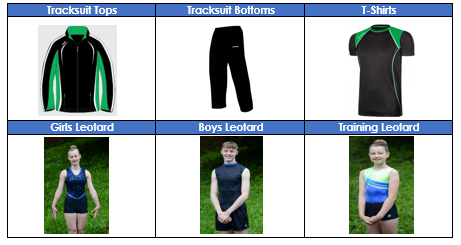 Gymnasts require the following items from the above clothing order form for competitions:
Tracksuit jacket
Tracksuit bottoms
T-shirt or polo shirt
White socks
Competition leotards and shorts
Boys – hair neat and tidy; Girls – gelled buns
Competitions and Events
Throughout the year gymnasts have many opportunities to take part in competitions and festivals. An event and competition diary is also enclosed in the pack. Selected gymnasts will have the opportunity to participate:
Schools Artistic Floor and Vault Competitions (Regionally and Nationally)
Schools Acrobatic Competitions (regionally and nationally)
Schools Tumbling Competitions (regionally and nationally)
South West Prelims Acrobatics Gymnastics Competition
South West CDC Acrobatic Gymnastics Competition
South West CDC Acrobatic Gymnastics Championships
South West Acrobatic Gymnastics Championships
Honiton Invitational Competition (national competition)
NDP National Finals for Acrobatic Gymnastics
Inter Regionals NDP Acrobatic Gymnastics Competition (Southampton)
British Championships for Acrobatic Gymnastics
International Acrobatic Gymnastics Competitions (Belgium, Italy, Switzerland, London, Bristol and South Tyneside)
Ivybridge Club Competition
Primary Performing Arts
The Performing Arts Show
Open Evenings
Sports Awards Evenings
Displays at events and shows
Letters will be sent home via student post informing you of any arrangements and event organisation in advance. The letter sent home clearly outlines logistics, cost and whether transport is provided for gymnasts.
British Gymnastics Membership
One of the requirements of attending gymnastics sessions at Ivybridge Gymnastics Academy is annual membership of British Gymnastics (BG).
Membership Benefits
Whether you are just starting out, or have been involved in Gymnastics for some time, there is a whole range of benefits to being a part of the British Gymnastics community:
To be part of a strong and recognised organisation that ensures a safe, child-friendly and fun environment to enjoy gymnastics
Access to coaches qualified to national standards, ensuring the training received is of the highest standard
Opportunities for entry into competitions at all levels, for all abilities and disciplines
GymFusion – access to any of the events within the National Festivals Programme and Gymnastics for all
Comprehensive Insurance Packages
Access to the Customer Support department – advice and guidance for every aspect of your membership
BGTV – bringing you the best gymnastics videos, interviews and events from the world of British Gymnastics
My Leadership Academy programme – enabling young people to help shape the future workforce of the Gymnastics community
Membership renewals are due on a yearly basis. From October 2017, to comply with new General Data Protection Regulation (GDPR), we are no longer able to pass on students' personal details to British Gymnastics. It is therefore, essential that the following process is followed in this order:
You must register your child's membership details directly through the British Gymnastics website
All membership fees must be paid to British Gymnastics directly
What type of membership do you need?
Recreational Gymnast (£19)
Secondary Elite Squads
Primary Elite Squads
Primary Development Squads
Primary Gym Crazy Kids, 5+ and 8+ Squads
Competitive gymnasts who compete regionally in a club level competition (not school level) will require a competitive membership. This will cost £43. We will inform gymnasts of any additional costs when required to do so.
You will need to go to the British Gymnastics Membership portal on the website to complete either the 'new membership' or 'membership renewal' process (more details below). Completing this process will create your child's vital insurance cover for the year.
Where and how to complete membership
Regardless of whether you are an existing or new member you can complete your child's membership process by going to the British Gymnastics website and clicking on the Membership tab. The specific web address is: https://www.british-gymnastics.org/membership
When the portal is open you will be asked to enter (answers in bold):
Personal details (which may speed up the process if British Gymnastics already has your details on file)
Confirm Gymnastics Club – Ivybridge Gymnastics Academy
Main type of gymnastics – Acrobatics
Any other types of gymnastics – Any that apply (for example you may tick Artistic if your child does this somewhere else)
Membership types – Recreational Gymnast or Competitive Gymnast (as stated above)
British Gymnastics tells us that the registration system on their website is quick and easy to use by mobile phone, tablet, computer or laptop. You will not need to pay anything extra. British Gymnastics will activate your membership and insurance cover will start immediately after you have completed the process then they will send your membership confirmation and benefits information by both post and email. British Gymnastics will notify Ivybridge Gymnastics Academy immediately when you have completed your registration.
External Links
| | | | |
| --- | --- | --- | --- |
| Name of Club | Address | Telephone Number | Email Address |
| Plymouth Swallows | Plymouth PL6 8BE | 01752 782345 | |
| Zero Gravity | Saltash PL12 6TW | 01752 842517 | |
| Tumbling Teddies Gymnastics | Plymouth PL7 1YB | 07432 710106 | |
| Rebound Gymnastics Club | Plymouth PL4 7PG | 07967 544353 | admin@reboundgymnasticsclub.co.uk |
Overview of Gymnastics Elite Squad Training
Students will experience a part-time Gymnastics programme during their PE lessons. This will comprise of:
Two or three Core PE lessons with their PE teacher
One Strength and Conditioning Session (Year 7 only)
One or two Specific Sports Academy training sessions
Please note all gymnasts will be in the v or z populations.
Gymnastics Elite Squad

7v

Lesson 1

Lesson 2

Lesson 3

Lesson 4

Week and Day

A Friday

B Monday

Block

2

4

Staff

SDS

TYR

Session

Gymnastics

Strength and Conditioning

7z

Lesson 1

Lesson 2

Week and Day

A Thursday

Block

2

Staff

SDS

Session

Gymnastics

8v

Lesson 1

Lesson 2

Lesson 3

Lesson 4

Week and Day

A Monday

Block

3

Staff

SDS

Session

Gymnastics

8z

Lesson 1

Lesson 2

Lesson 3

Lesson 4

Week and Day

B Monday

Block

1

Staff

SDS

Session

Gymnastics

9v

Lesson 1

Lesson 2

Lesson 3

Week and Day

A Wednesday

Block

5

Staff

SDS

Session

Gymnastics

9z

Lesson 1

Lesson 2

Lesson 3

Week and Day

B Friday

Block

3

Staff

SDS

Session

Gymnastics
Gymnastics Elite Squad

10iv

Lesson 1

Lesson 2

Lesson 3

Week and Day

B Friday

Block

1

Staff

SDS

Session

Gymnastics

10yz

Lesson 1

Lesson 2

Lesson 3

Week and Day

A Wednesday

Block

1

Staff

SDS

Session

Gymnastics

11iv

Lesson 1

Lesson 2

Lesson 3

Lesson 4

Week and Day

B Wednesday

Block

4

Staff

SDS

Session

Gymnastics

11yz

Lesson 1

Lesson 2

Lesson 3

Lesson 4

Week and Day

B Wednesday

Block

5

Staff

SDS

Session

Gymnastics

All Years

Lesson 1

Lesson 2

Week and Day

A Thursday

B Thursday

Block

5

5

Staff

RDY and SDS

RDY and SDS

Session

Gymnastics

Gymnastics