Student Librarians Charity Shop Bargain Books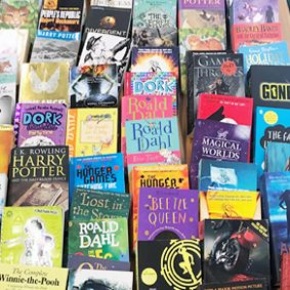 On Wednesday, 30 January, twelve Ivybridge Community College Student Librarians, accompanied by Mrs Hull and Mrs Trafford, visited Ivybridge town centre to browse the local charity shops hoping to find bargain books for the College library.
The students were divided into teams of six, and had one hour, £4.00 each, and a check list of books to keep an eye out for, including Roald Dahl, Harry Potter, and classic books.
Both groups had to work out which books would be best for the library and how much money to spend. They were pleasantly surprised to discover that books usually priced at £6.99 can cost only 40p in the Dame Hannah Rogers Charity shop. Some of the books didn't even have broken spines and appeared as though they had never been read.
Unfortunately, an hour was not long enough and the students had to hurry back to College to admire their book haul before lessons began. Together the groups bought 80 books for less than £50.00, a proper book bargain!
We cannot emphasise how important it is to support your local charities; there are plenty of treasures to be found and many people willing to help you when you visit your local charity shop.