Award winning Poet and Hip Hop Artist inspires Students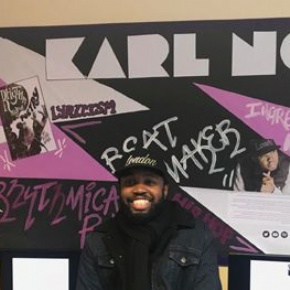 On Wednesday, 31 October, Ivybridge Community College welcomed Karl Nova, award winning Poet and Hip Hop artist, to the Learning Resources Centre.
Karl has recently been thrust into literary fame after winning the CLIPPA award for his first ever book, Rhythm and Poetry. Not many people know, but RAP stands for rhythm and poetry, and that's what Karl Nova is all about.
Karl's book is a collection of poems, influenced by Hip Hop, about the growth from childhood to adulthood and is filled with humour, wit, and plenty of positivity. Ivybridge students were treated to live performances of his poems True Colours and No Beef. While Karl's writing is enjoyable to read, it is a whole new experience to hear it read aloud with such enthusiasm and charm. With each of his poems, Karl explained the story behind them, highlighting the need for care when on social media, sparking discussions on fake news, cat fishing, and trolling. Karl then invited the students to write their own poems or raps about the pros and cons of social media.
During lunchtime, Karl did a personal meet and greet session for student librarians and budding writers, in which he told us all about his childhood, and his experiences with growing up with difficult parental expectations. We discussed dreams and aspirations and that the world takes you to strange and wonderful places, no matter what you may have planned.
It was a long day of travelling for Karl but he assured us it was worth it and that he'd love to come to Ivybridge Community College again one day, sentiments that were shared by students and staff as well.