Poetry by Heart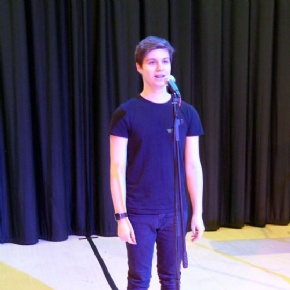 On Friday, 19 January 2018 Ivybridge Community College students took part in the
Poetry by Heart competition.
The evening commenced with students from Key Stages 4 and 5 reading selected Pre-1914 poems; this was followed by readings of Shakespearian sonnets by teaching staff from the English and Drama Departments. The students then read their second reading of Post-1914 poems from the Poetry by Heart anthology.
Emily Fairclough, Director of English; Fiona Samuels, Teacher of Media Studies and
Kim Thorne, Acting Head of Year 12, considered many factors when reaching their decision on the winning performance. The audience was entertained while the results were being finalised, by a musical performance from 'Blank', one of the College's bands.
The winner was Year 12 student
Archie Duke, whose readings of: 'A Satirical Elegy on the death of the late famous General' by Jonathan Swift and 'Border' by Gillian Clarke wowed the judges in terms of understanding, performance and accuracy. The judges were also impressed with the level of challenge and difficulty of the poems chosen by Archie who delivered both readings with aplomb. Sarah Lannin, also in Year 12, was second place.
Year 12 student, Imy Chapman, who was a runner up in the competition said, 'Thank you for the opportunity to do Poetry by Heart this year and especially thanks to all the teachers who gave up their time to support us all.'
The event was attended by Rachel Hutchinson, Principal; Malcolm Collins, Deputy Principal; members of the English and Drama departments, parents and students.
Particular thanks go to Stephen Ellis, Teacher of Drama, who coordinated the organisation of the room and running order for the event, alongside his coaching of the students and reading. Also to Simon Whitehorn, Performing Arts Resources Manager, for his support with the student band and with filming the event. We are also very grateful to Year 10 students Ryan Bailey and Josh Trezise, for providing camera work and lighting, Year 8 students
Ben Crouch and Tristen O'Reilly and Year 9 student Holly Wade, for their support in setting up the room.
Archie Duke's readings will now be submitted to the Poetry by Heart judging panel for the County Contests.