Sporting Successes Galore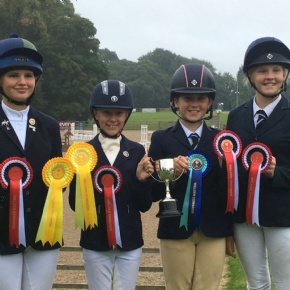 The College continues to show its sporting prowess, with a number of sporting successes.
Firstly, Molly Cartwright in Year 7 recently represented her club, South Hams Taekwondo, at the National Championships in Manchester. She successfully got through to the semi-finals, where she very quickly finished the fight, which placed Molly in her very first National Competition Final. She is now ranked number two in Great Britain.
On 26 September, the College's Horse Riding Team won the South West Schools One Day Event at Bicton in Exeter. The team consisted of Katie Reid, Ellie Smart, Hannah Preston and Courtney Fletcher. All students won tickets to attend the Olympia International Horse Show on 14 December 2017. Katie Reid rode her pony called Teddy and she finished second individually. She had a dressage score of 17, which was her best ever score. She said "It was a fantastic experience and I really enjoyed being part of the Ivybridge College Team."
For further information relating to the Ivybridge College Horse Riding Team please follow the link below to the Devon Live website -
http://www.devonlive.com/news/local-news/haul-equestrian-success-dartmoor-pony-622822
The College's Girls' Rugby groups are growing in strength, with over forty girls playing Rugby each week at the College. This resulted in a number of girls attending the Pitch Up and Play sessions held at Plymstock Albion Oakes Rugby Football Club on Friday, 22 September 2017. Mike Lewis, the RFU Regional Coach, was delighted with the skills, enthusiasm, attentiveness and manners of the girls, so much so that he was keen to host the following week's session at the College.