Château de la Baudonnière , Normandy, France 20-26 May 2017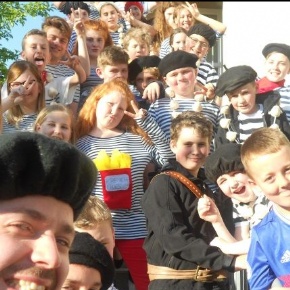 25 keen students took part in an exciting trip to Normandy, France between Saturday, 20 and Friday, 26 May.
After a journey overnight on a ferry and a short journey by coach, students arrived to the wonderful Château de la Baudonnière. As soon as they left the coach, they were received by a member of the Château staff speaking to them only in French! All the staff in the Château are native French speakers and they were leading all the activities and lessons completely in French so, after a few days, the improvement of the language skills of all the Ivybridge students was evident!
Our week there was full of interesting and varied activities: tir à l'arc (archery), radeaux (raft building), escalade (climbing), just to mention a few… Of course, having to speak French all day and doing so many different activities made everyone hungry, but the staff in the Château were promptly providing everyone with loads of amazing French food and plenty of water. The French immersion did not stop even during meals and as soon as a table needed more water or bread, there was always a student ready to ask the chef: "je voudrais encore de l'eau/ du pain, s'il vous plait". The peak of all this was when everyone was offered scargots (snails) for dinner, and our Ivybridge students did not disappoint since almost everyone had a go at trying them and some students did really enjoy it (well done Matt B!).
Overall, it was a really nice trip with a really nice group of students: from the kindness and hard work of Yoana and Matt C, to the energetic participation of students like Josh, Elian or Nell, everyone did a really good job that is worth praising. When students were asked if they would recommend the trip to future Year 7, they answered with a clear OUI!