Students are Fantastic Role Models during Community Environmental Event.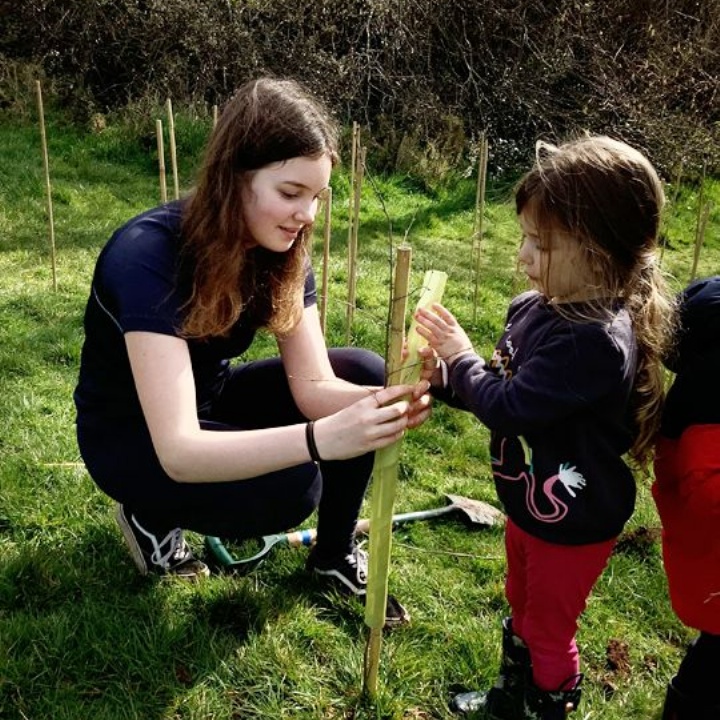 As part of British Science Week and the theme of 'Growth', the College's Sustainability Group organised a tree planting workshop at MacAndrews Field, Ivybridge, in conjunction with local community environmental charity 'Parklife SW' and Stowford Nursery.
Incredibly, together they planted 300 trees with the help of local volunteers from the charity.
Vicky Stancombe, teacher of Modern Foreign Languages and Sustainability Group lead at the College, said, "The workshop was an incredible success and our Ivybridge Community College students showed themselves to be amazing teachers to their Nursery School pupils. The students supported the 25 young children to learn about the important role trees play in our environment; producing oxygen, producing food and how they support the biodiversity of the ecosystem. Everyone learned about the correct process of planting a tree, using a spade safely to make a hole, and the importance of getting the roots firmly beneath the ground. The students and children met many worms along the way, which we made sure made it back into the soil."
The Parklife SW volunteers, and the staff and parent volunteers from Stowford Nursery, commented that the Ivybridge Community College students demonstrated exceptional maturity, patience and kindness to the Nursery children. Mrs Roach, Stowford Nursery teacher, said that she "commended the students on the fantastic way they interacted with the Nursery children. They really were fantastic role models throughout the workshop."
Thank you to Parklife SW for providing the trees for this project. For further information on any of their community projects around the local area please see ParkLife SW CIC.