Sweet Charity!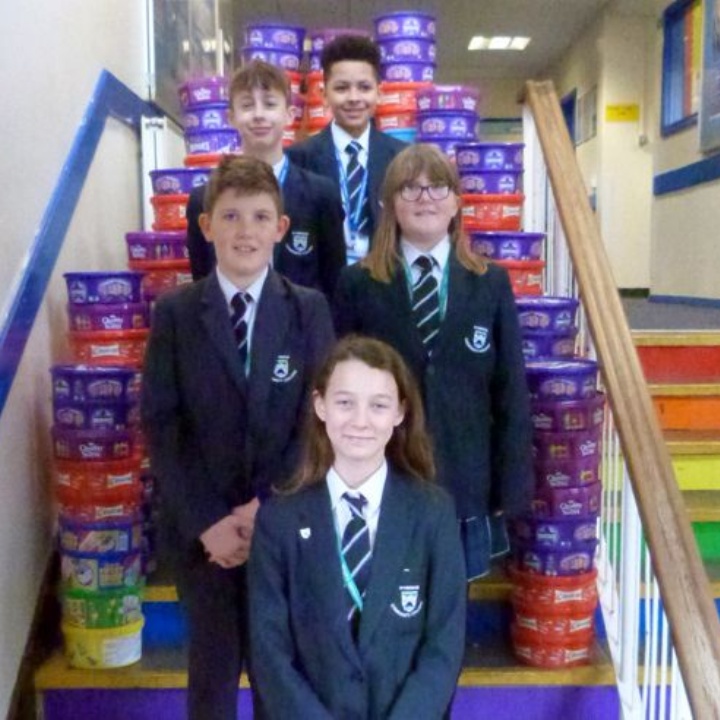 Ivybridge Community College staff and students have brought in more than 150 empty confectionery tubs for a fundraising initiative organised through the College's Key Stage 3 Office, raising essential funds for charity.
The tubs will now be collected from the College and recycled by local company, DCW, with all profits being donated to Dartmoor Zoological Society and Mind.
Coral Jonas, who is the Chief Operating Officer of Dartmoor Zoo and also a Governor at Ivybridge Community College said, "Thank you so much to Ivybridge Community College staff, students and parents, for taking part in our latest fundraiser for Dartmoor Zoo. By collecting the tubs you have helped Dartmoor Zoo with their £4,500 a day running costs, contributed to the development of new enclosures to take part in vital conservation programmes and you have given us the chance to continue more research into animal welfare. On top of that you have kept reusable plastic out of landfill. Last year these plastic tubs were made into our new benches around the zoo as well, so please look out for them if you visit."
Emily Almond, DCW Business Support Manager, commented, "A huge thank you for supporting our Recycle and Raise scheme this year. We are now in our second year of running the scheme, even with lockdowns and restrictions we have had a bigger and better year than last year!
Once all of the plastic is collected, we will bring it back to our DCW Polymers depot which is at our head office in Exeter. The plastic tubs and bottle tops we collect from you will be sorted by material type, shredded and then will be turned it into plastic garden furniture and fence posts with our brand new extrusion machine. This means the value of the plastic is increased dramatically compared to the value if the plastic granules were sold, so we'll be able to raise even more money for our charities! The value of the benches we get from the extrusion process will be the total amount raised for the charities and split equally 50/50 to Dartmoor Zoo and Mind.
I cannot thank you enough for the support you've given to our Recycle and Raise project, we have got really exciting plans for the coming year and I hope you'll be able to join in again next year too."