Girls' Football Initiative Encourages Leadership and Communication Skills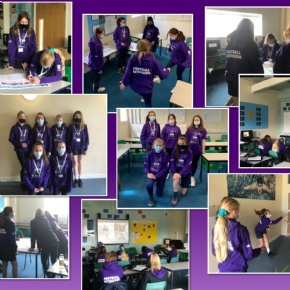 On Thursday, 5 May, Ivybridge Community College students took part in a live launch for an initiative to help grow Girls' Football.
Game of Our Own, which is supported by Barclays, is a programme that supports girls to be empowered to lead football-related activities for others. The twelve Football Activators choose to take on a delivery or a marketing role to help deliver football.
Our Year 8 and 9 students, who are taking part in Game of Our Own, also participate in the Girls' Football Youth Sport Award, a reward and celebration scheme which helps to evidence their life skills learning and achievements through football. This award also helps them understand the skills they've learnt and how they can transfer them to wider life. All of the students received their own Game of Our Own t-shirt, jumper, lanyard, stress ball and pen, provided by the Youth Sport Trust and Barclays.
For the launch, our Football Activators were joined by inspirational speakers including former England legends and a World Champion Inline Skater. They gave insights into their childhoods growing up, the access that they had to different sports, and how our Football Activators can become the best leaders possible. They were truly inspiring and our students really enjoyed having the opportunity to listen to their stories and learning about how they got to where they are today.
During the two hour launch, there was an opportunity for the Activators to work as a group to set targets about how successful they wanted to be as a group. They also put individual targets on how they wanted to have an impact on the Game of Our Own initiative. There was also a practical element to the launch, teaching the Activators the importance of leadership and communication through activities.
Jasmine, in Year 8, described the live launch as "fun and interesting" and that she "can't wait for the programme to start properly and begin growing the girls' game."
Mr Leonard, Head of Football, said, "I think this is a massive initiative which is going to have such an amazing impact on girls at Ivybridge Community College. We are really excited about the future of Girls' Football at the College. The Football Activators that myself, and Mr Wynn have selected, are going to help grow participation numbers and get as many girls being active, and having fun whilst playing football. We can't wait to start working with them!"
Our thanks go to Jenna Downing (Former World Champion Inline Skater), Teni Charles (Former Footballer), Rachel Yankey, Faye White, Sue Smith and Rachel Brown-Finnis (All England Legends), and Lucy Martin for their inspirational words during the launch.