Sports Academy
What is a Sport Academy?
Our vision is to give every child, from primary to Sixth Form, and from participation to elite level, the opportunity to develop their athletic ability, improve the level of skill in their chosen sport(s) and reach their performance potential. We will do this by providing access to excellent teaching and coaching, support, and specialist sports provision alongside their academic commitments.
Please click here to access Sports Academy news updates and press releases.
Sport Academy Structure
The Sports Academy comprises five different sports:
Football Academy
Gymnastics Academy
Netball Academy
Rugby Academy
Tennis Academy (information to follow)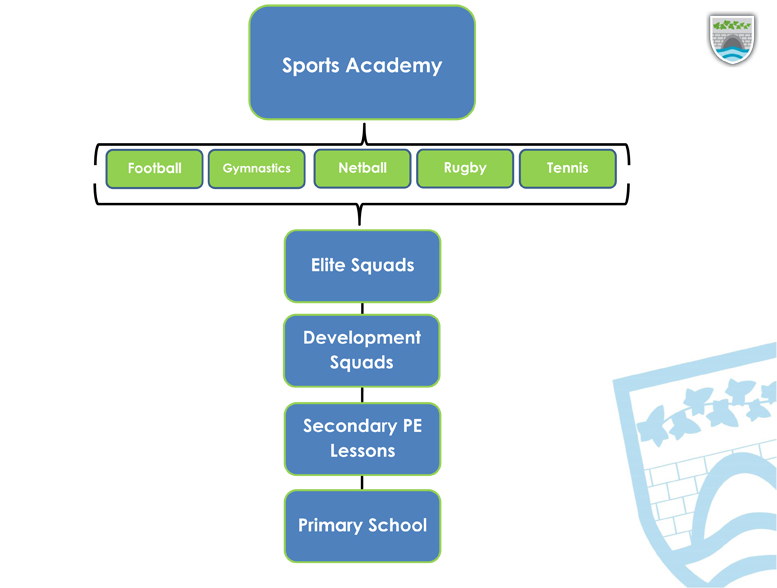 Sports Academy Staff Structure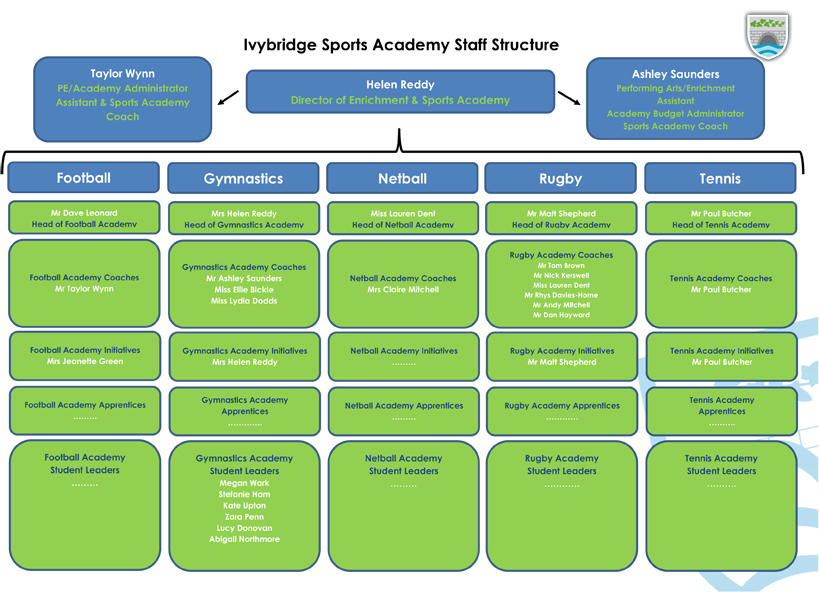 Each Academy comprises two squads: the Development Squad and the Elite Squad.
1. Development Squad
The Development Squads are open to all students at Ivybridge Community College. The primary purpose of the Development Squad is participation, with the related goals of improved physical fitness, fun, and social involvement. Students participating in the Development Squads will have the opportunity to be selected for the Elite Squads.
All Academy Development Squad students will:
Be part of the Sports Academy and members of the Development Squad.
Develop their skill level and game play or performance with specialist coaches.
Train after College as part of the Development Squad, in preparation for performances, games, competitions, tournaments, cups and leagues.
Have the opportunity to be selected for the Elite Squads at any point of the year (students are selected and invited by letter throughout the year).
2. Elite Squad

Each individual Academy includes students who regularly take part (and follow a developmental path) in that particular sport at the College. We have changed the names of our leading sports groups from 'Academy' to 'Elite Squads'. Our highest-level athletes in each Sport Academy will now, therefore, be in the Elite Football Squad, Elite Gymnastics Squad, Elite Netball Squad and Elite Rugby Squad.
All Academy Elite Squad students will:
Be extracted from PE lessons to receive a bespoke sport training programme.
Continue to take part in the PE curriculum in addition to the specific sport programme, and experience up to eight sports over the period of a year.
Develop their skill level and game play or performance with specialist coaches.
Receive specialised Strength and Conditioning sessions from Mr Taylor.
Receive College support with regards to mentoring.
Train after College as part of the Elite Squad, in preparation for performances, games, competitions, tournaments, cups or leagues.
What does the Elite Squad programme involve?
As part of the programme all Elite Squad members are entitled to the following:
Profile
A 'profile' will be created within the College and on the College website that will highlight the athlete's current achievements. This will be a showcase that allows teachers and students to understand every elite athlete's accomplishments.
Funding and sponsorship
Athletes may have the opportunity to tap into funding or sponsorship opportunities, where available. The College will be able to help with competition travel and expenses at an international level.
Strength and Conditioning support
Athletes will have access to health and wellbeing monitoring, using our Athlete Monitoring System. This will provide detailed feedback on physical development progress, training workload, stress, sleep, and wellness, all factors that can support the successful performance of the student. We offer two sessions per week to help develop the physical characteristics.
Events and workshops
To support the holistic nature of the athlete experience, develop the correct mindset, and assist with nutritional strategies, goal setting, and visualisation.
College support
Athletes will be prioritised to receive additional support and assistance including, where required and agreed in advance, time off during the College day and using PE lessons to catch up on academic work.
All new Elite Squad members are now able to train during their PE lessons. Please ensure all students are fully aware of his/her training sessions, logistics and organisation of the sessions.
Communication
Please find below the name and contact details of the Head of each Sport Academy. Please email the Head of Football if you require further sport-specific information.
Please do email the following staff if you have any other questions.
| | | |
| --- | --- | --- |
| Sport Academy | Name | Email Address |
| Director of Sport | Helen Reddy | |
| Head of Football | Dave Leonard | |
| Head of Gymnastics | Helen Reddy | |
| Head of Netball | Lauren Dent | |
| Head of Rugby | Matt Shepherd | |
Sport Academy Elite Squad Clothing
Students are required to purchase compulsory items of Sports Academy Elite Squad clothing for their training, games, competitions and performances. There are also optional items of clothing that can be purchased. The clothing is supplied by VX3.
Below you will see a few examples of what is on offer-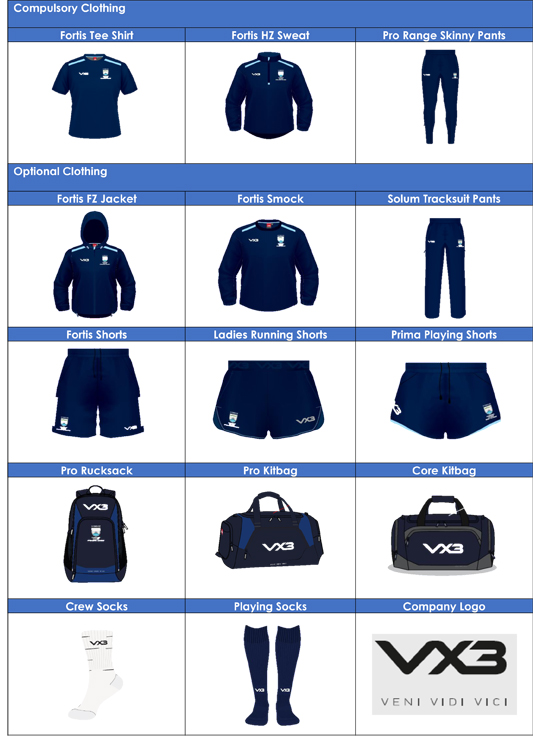 Additional items required
Long Socks – All Football and Rugby players must buy the long blue socks from VX3.
Shin Pads – All Football players must have their own shin pads, which they must wear during all training sessions.
Rugby Gum Shields – Students will be participating in contact work during Rugby and a gum shield is compulsory for every session, including matches. This is for the students' own safety.
Football Playing Shorts – All football players will require plain navy football playing shorts to train and play in (without pockets). Please go to ParentPay (Football Academy – training and playing shorts) and pay £10.00 for your son's/daughter's shorts. These will be hand delivered to the Sports Academy Elite Squad student, once in stock. This must be in addition to your website order. This is because they are a bespoke order for the College only
How to Purchase?
Visit https://vx-3.com/
Go to the club shops on the home page
Select universities, schools and colleges
Find Ivybridge Community College and click to view the club shop
Select your Sports Academy and property/clothing
For sizing queries refer to size guide on product page
Add to basket and follow instructions
Select your delivery address
Sit back and wait for your order (delivery within four weeks max)
Development Squad Clothing
Elite Squad Fixtures and Trips
Our aim is for our Elite Squads to represent the College with pride and with the ambition of doing their very best. All fixtures/trips will either be 'Home' or 'Away'. Away fixtures will involve a minibus or coach. On some occasions a fixture/trip will include accommodation and an overnight stay.
All Elite Squad members (Football, Netball and Rugby only) are required to pay an annual £30.00 fee to contribute towards transport costs and entry fees. The fees will contribute to the cost of minibuses and entry fees to fixtures. Students will not be asked to pay per fixture. All fees will be paid using ParentPay. Please pay fees no later than Monday, 1 November 2021.
There will be an additional cost for fixtures that require the hire of coaches and overnight stays in hotels. An information letter will be sent to all parents/carers in advance of these fixtures.
All students in the Gymnastics Elite Squad will receive information regarding competitions and entry fees in their annual hand book.
Communication – In advance of a fixture, all students and parents/carers will receive a letter informing them of dates, times, meeting points, what to bring and spectator information. Please do email the Head of each Sport Academy if there are any further questions regarding the fixture.
Consent – Please can parents/carers of all Elite Squad members (Football, Gymnastics, Netball and Rugby) complete the Microsoft form here to give consent to their son/daughter to represent the College in all fixtures 'Home' and 'Away'.
Development Squad Fixtures and Trips
PACE
PACE is Ivybridge Community College's approach to setting high standards and expectations for all students (full details can be found here.
This underpins the College's key focus of providing high-quality teaching and learning, which is key both in the classroom and outside for practical sessions. The PACE ethos helps us to embed a positive community culture, while sustaining positive working relationships between adults, students and peers.
At Ivybridge Community College the Sports Academy works seamlessly with PACE. We expect our athletes to maintain the highest standards by displaying pride in their presentation with both uniform and Academy kit, a positive attitude, excellent conduct and 100% effort at all times. This includes the Sports Academy supporting all PACE 'consequences' that students receive during their College day.
If a sanction is given to an Elite Squad member, then the Sports Academy will do the following to support them meeting the College's 'Standards and Expectations':
Consequence 1
Sports Academy coach communicates with the Elite Squad member.
Consequence 2
Head of the Sports Academy communicates with the parent/carer explaining that should they continue to not meet the 'Standards and Expectations' the next time the Elite Squad member will miss training, but they must still attend the session.
Consequence 3
The Elite Squad member will miss a training session but will be expected to attend the session and assist the coach.
Consequence 4
The Director of the Sport Academy communicates with the Elite Squad member and their parent/carer to explain that they will miss the next game/performance and also a week's training if another consequence is given.
Consequence 5
The Director of the Sport Academy communicates with the Elite Squad member's parent/carer to explain that the student will miss a game/performance and a week of training.
Consequence 6
A parent/carer meeting is organised to inform them that the Elite Squad member will be removed from the Academy for the remainder of the term if they receive a further (seventh) consequence.