Netball Academy
Netball Academy
The Netball Academy at Ivybridge Community College strives in our ethos to help develop all individuals to reach their potential, both on and off the court. We work towards this in a team environment, from elite through to our development, and are providing a 'Netball for all' atmosphere. We strive to create a warm and friendly environment where members can develop their skills and confidence both individually and as part of a team.
We believe a strong team requires not just sporting ability but commitment, dedication and respect for others.
The Netball Academy wants their players to continue their passion for their sport throughout their life through playing socially, at an elite level and/or coaching and officiating.
Netball Academy Structure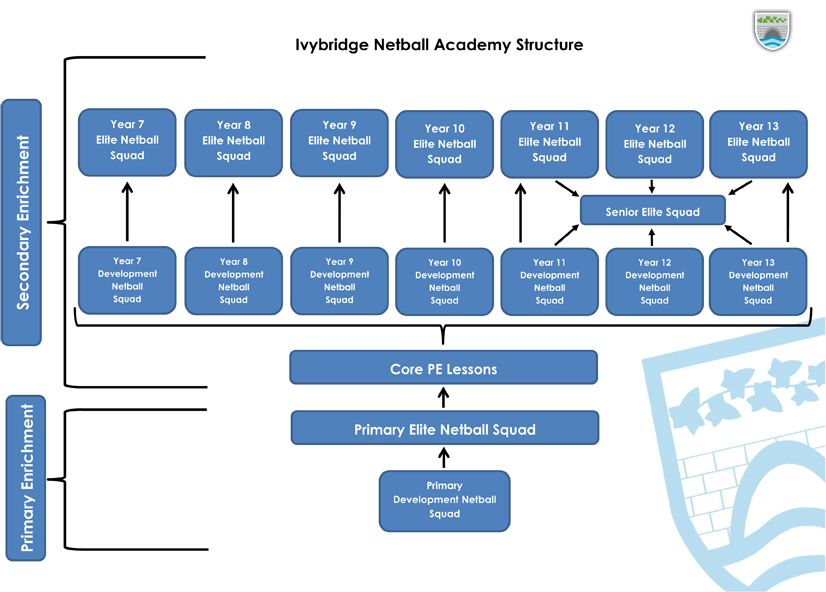 Benefits
There are many benefits to playing Netball:
Improved physical health, such as increased muscular strength, agility and coordination, and improved muscular endurance
Improved social health including boosting confidence and teamwork skills
Improved mental health
Game awareness and understanding
What is required to be an Elite Squad member?
Be performing at an external club in their first team
Be attending after College clubs regularly
To follow the ethos and expectations of the College and the Academy
Be a role model and follow the character virtues in both training and when representing the College
External Links
| | | | |
| --- | --- | --- | --- |
| Name of Club | Address | Telephone Number | Email Address |
| Plymouth Firebirds Netball Club | Plymouth College Sports Hall Plymouth PL4 6RN | 07895 447613 | plymouthfirebirdsnetball@hotmail.com |
| Plymouth Pilgrims Netball Club | Juniors- Plymouth Life Centre, Plymouth | 07812 196511 | sarahplunkett@gmail.com |
| Ivybridge Junior Netball Club | Ivybridge Community College, Sports Hall, PL21 0JA | N/A | ivybridgejuniornetball@gmail.com |
Overview of the Netball Elite Squad Training
Students will experience a part-time Netball programme during their PE lessons. This will comprise:
2 or 3 Core PE lessons with their PE teacher
1 Specific Sports Academy training sessions