KITE Programme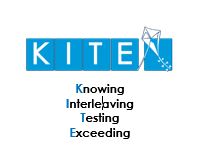 In September 2019 we introduced the KITE programme for Years 7 to 11. All students were issued with a KITE booklet that contained the 'core' knowledge from across the curriculum to support their learning during the academic year. Through our Tutorial Programme, subject lessons and Home Learning, students were taught how to use their KITE books to create revision resources, following the Self-Testing Toolkit, to enable them to effectively retain and retrieve this knowledge.
Why did we introduce the KITE programme?
The more students know, the more they learn. Indeed, knowledge is the foundation of a good education. Learning occurs when students connect new content to prior learning. The more pupils know the more they want to know, and the more they know the more they can discuss and debate what they know. They can reject parts of it, make their own decisions and build an understanding and an appreciation of the world around them. Knowledge leads to greater understanding as students develop their interconnected schema to make subconscious links between discrete pieces of knowledge and appreciate meaning, inference and reference.
It is impossible for students to make proper critical judgements without a secure base of knowledge. Through a broad platform of cultural literacy students become better readers, fluent communicators and critical thinkers. Fundamentally, a secure base of knowledge builds confidence and motivation allowing students to enjoy the process of learning.
Development of the KITE programme: September 2020
All students in Years 7 to 11 were issued with a new KITE Learning Journal during the College Start of Term Induction Programme. As well as containing enhanced subject specific pages with the 'core' knowledge for this academic year, we have now incorporated the College information pages that were previously contained within the College Planner. This allows students to have one journal containing all of the key information and supporting resources in the same place.
During the Induction week, students will be guided through the new pages to ensure they can navigate their journals effectively. We encourage parents/carers to look through the KITE Journal and guidance on using the subject pages and Self-Testing Toolkit with their son/daughter during the early part of this term. There are also pages included for parents, carers and staff at the College to write key messages to Tutors or other staff members.
All Home Learning will be set and recorded through epraise. We encourage parents/carers to download the epraise app if you are yet to do so. Active revision from the KITE Learning Journals will be an integral part of the weekly Home Learning programme; further information is contained within the KITE Learning Journal for easy reference.
The KITE Learning Journal is an essential part of our Super 7 and students should ensure they have this with them every day in College. If a student misplaces their KITE Learning Journal or it is damaged and is no longer useable, a replacement can be purchased from the Key Stage Offices at a cost of £5 charged through ParentPay.