Careers
Careers education at Ivybridge Community College starts in Year 7 and continues through to Year 13.
---
Please follow this link for exciting careers opportunities for National Careers Week -
Monday, 1 March to Friday, 5 March 2021
---
Please click here to access the Virtual Careers Fair
---
Lockdown Events
Please see below for a host of local opportunities -
**Please follow this link for a Virtual Military and Protective Services Taster Event on Thursday, 18 February 2021**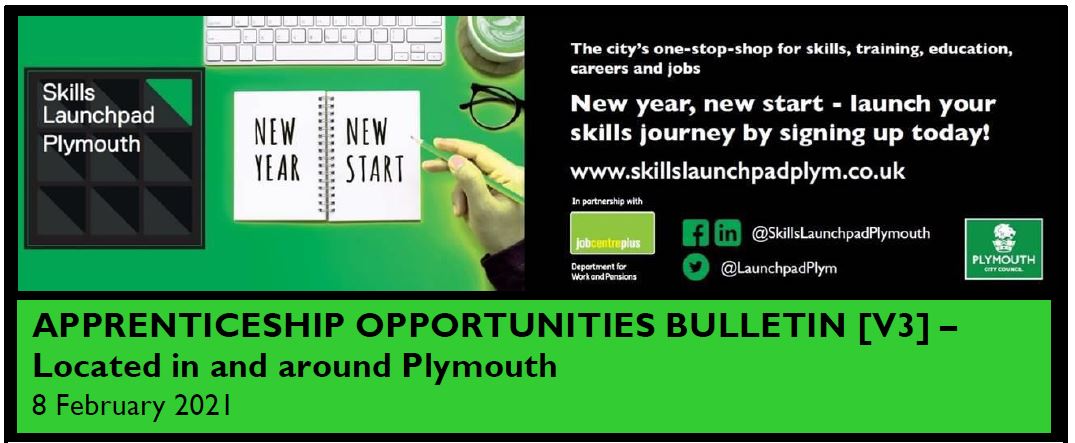 ---
City College Plymouth's Online Open Day is taking place on Saturday, 6 February and
students are welcome to register here to ensure they receive a text or e-mail reminder to visit.
There is content around apprenticeships, university-level study, funding and learning support, as well as the opportunity to virtually tour the facilities.
In addition to the website content, we are also bringing a live element to the day with our Facebook Live sessions, see below -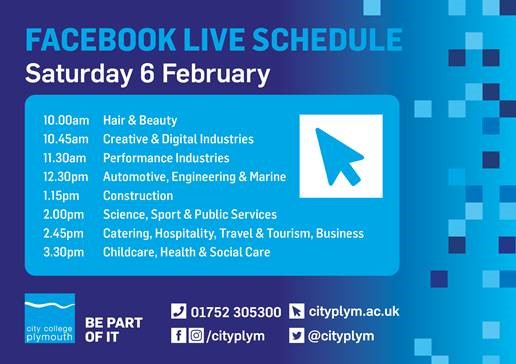 ---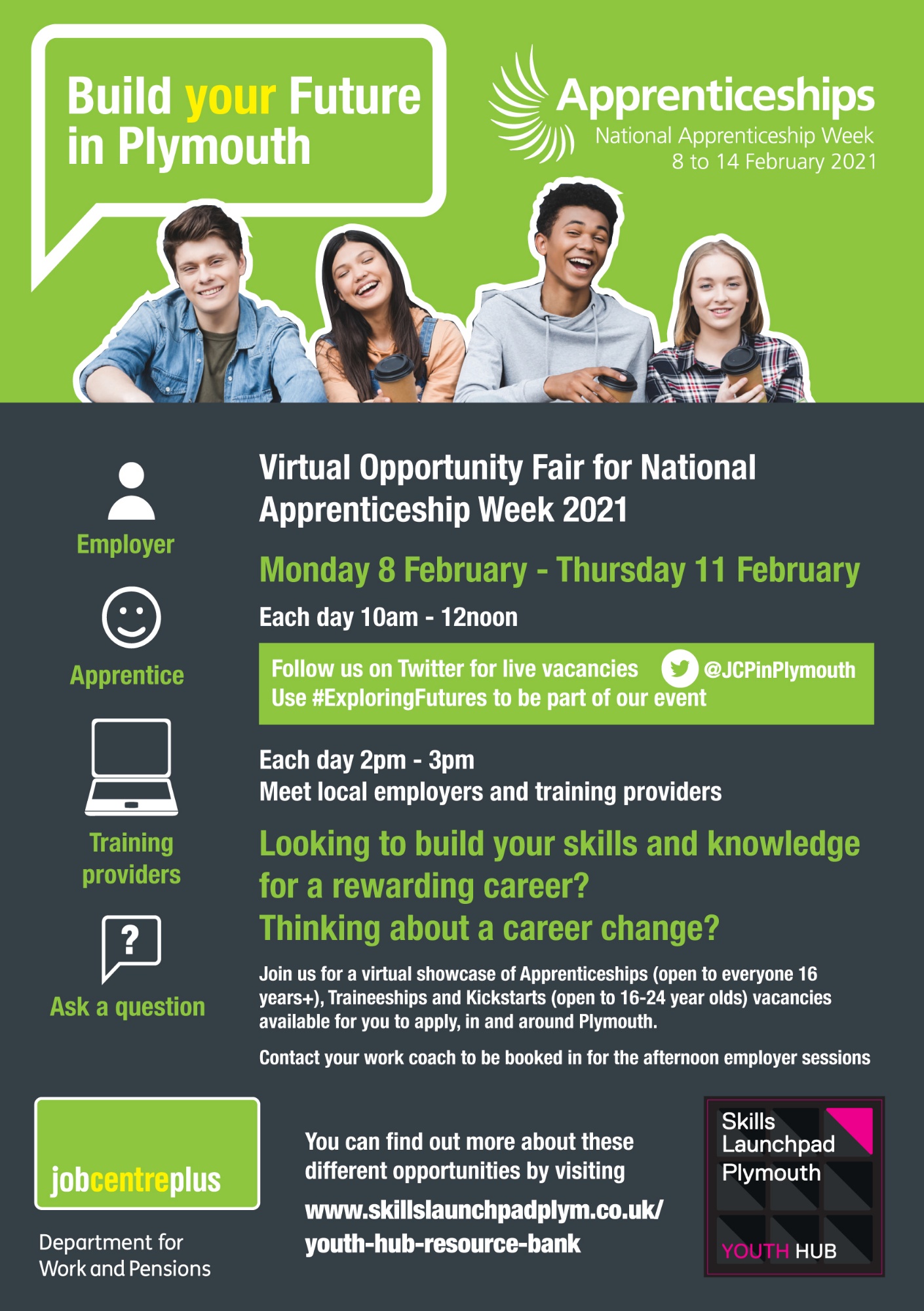 ---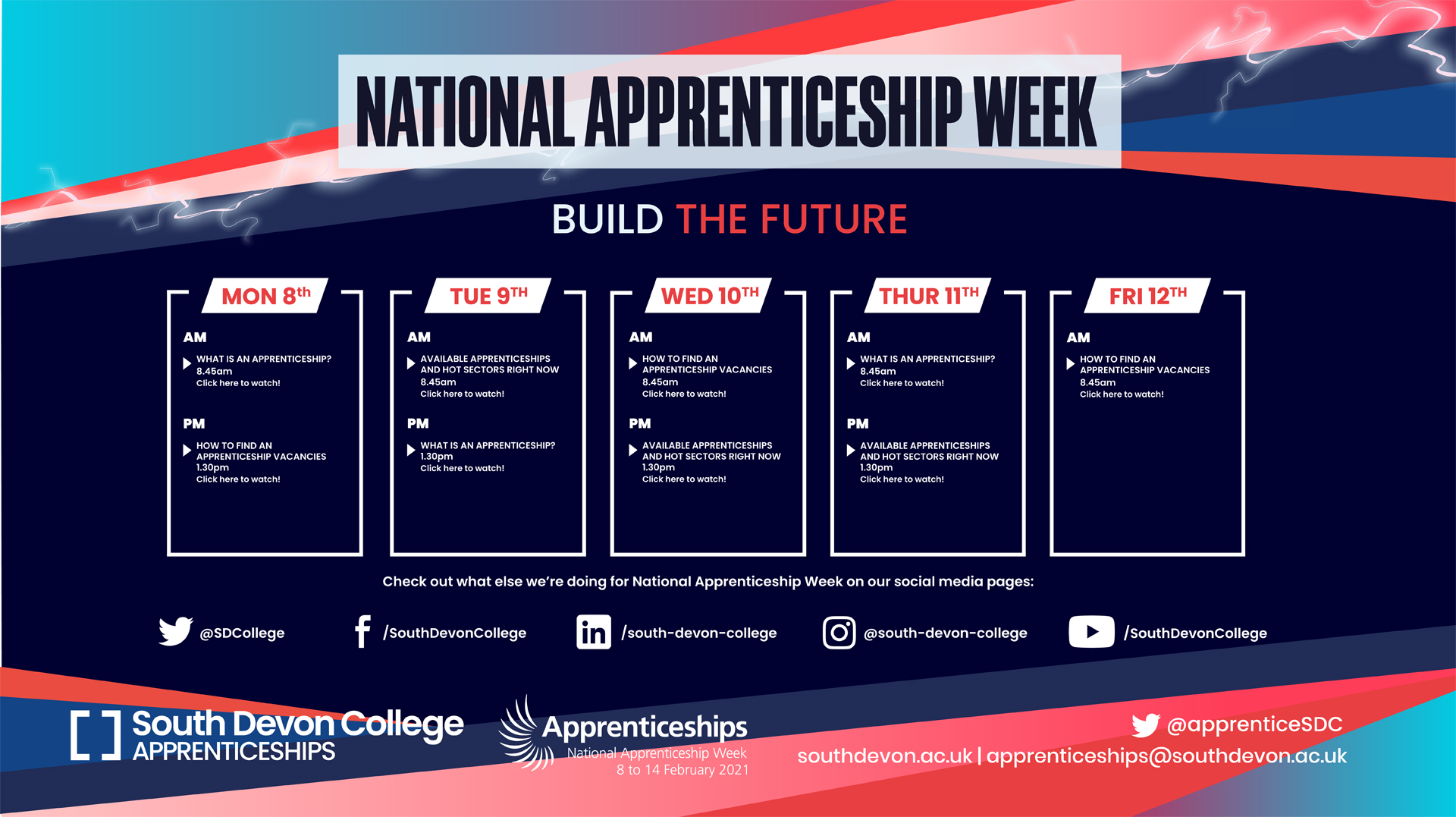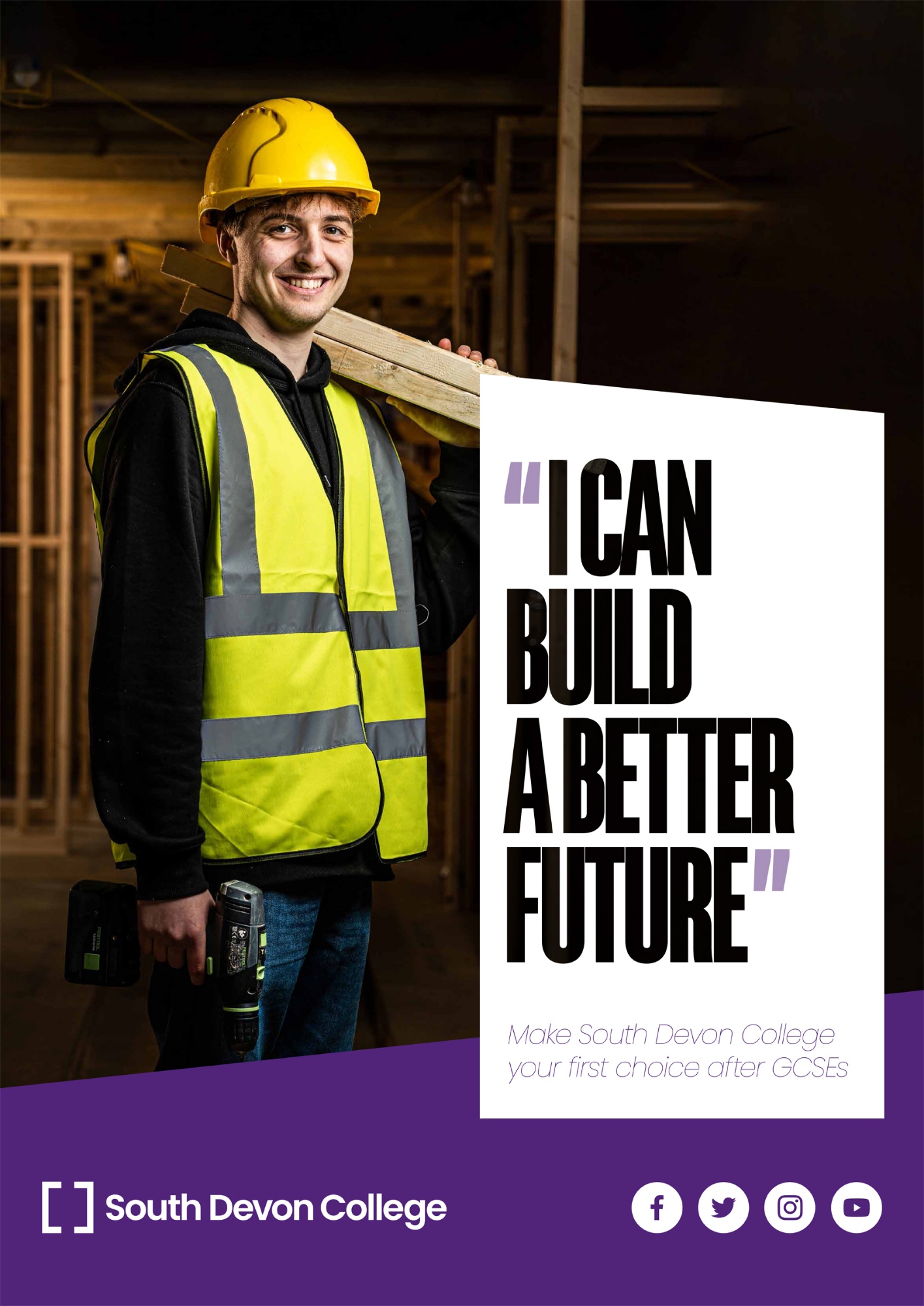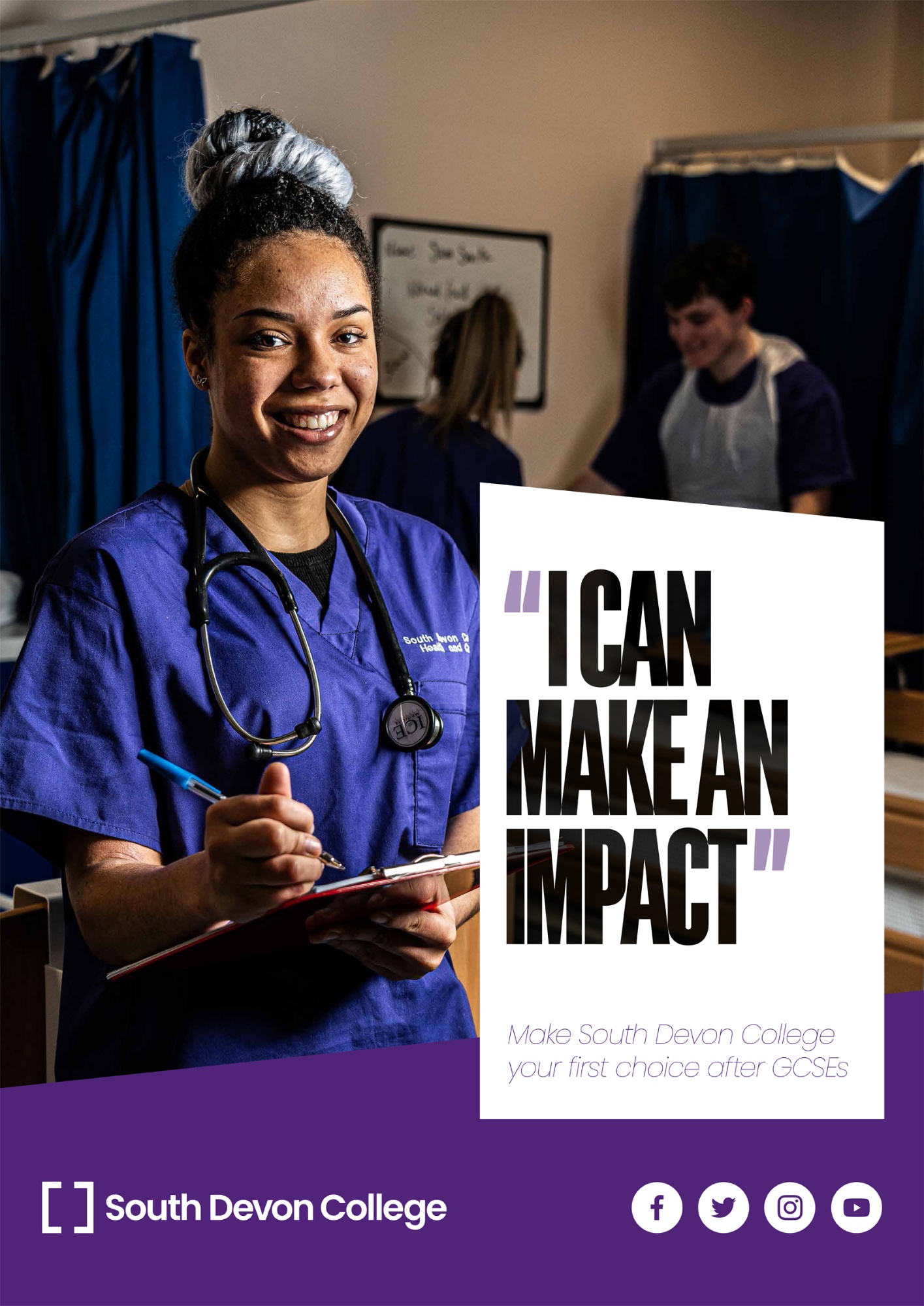 ---
Please click here to access Free Virtual Events and Webinars in January and February
UK University and Apprenticeship Search Virtual Fair – Wednesday, 27 January 2021
Meet the Russell Group Virtual Event – Wednesday, 10 February
---
Please see below for details of an upcoming Apprenticeships Careers Fair opportunity from the National Careers Service on Wednesday, 27 January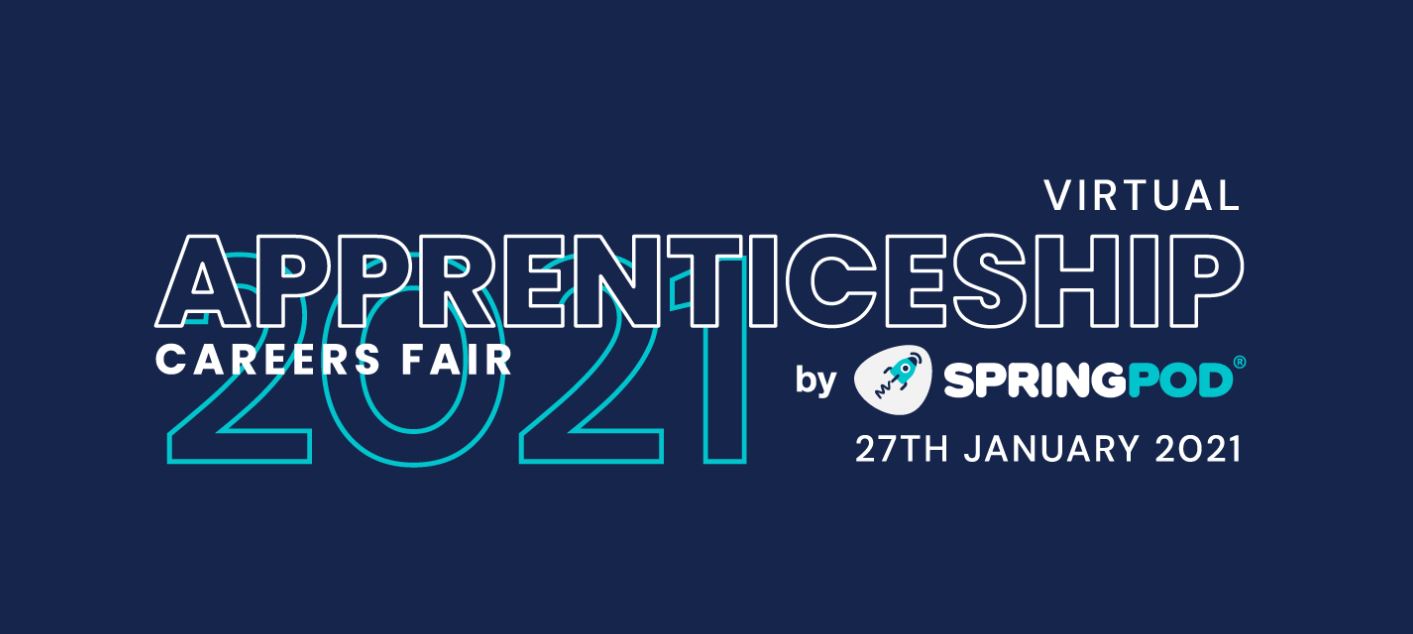 ---
Please see below for details of an upcoming Careers Fair opportunity from the National Careers Service on Wednesday, 27 and Thursday, 28 January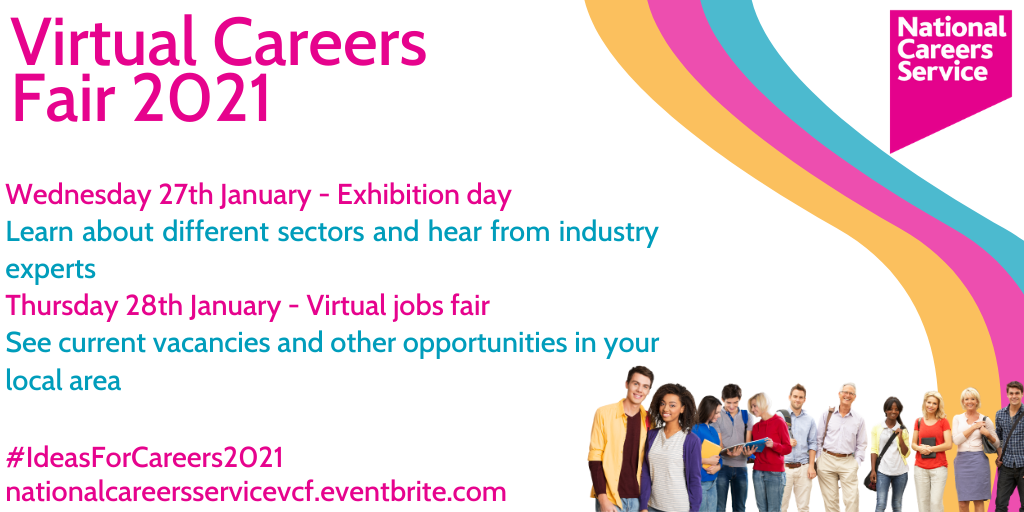 ---
We focus on creating opportunities through our curriculum for young people to learn new skills, develop resilience and have encounters with external parties, individuals and organisations. We employ the services of a dedicated careers professional from Careers South West to offer independent advice and guidance at critical times. We meet with students and parents during times of transition, for example from KS2 to KS3, from KS3 to KS4 and from KS4 to KS5.
We have numerous links through all our stakeholders with local businesses and employers. We are currently working with the Southern Construction Framework on their Adopt a School Partnership. The College uses Uni-Frog online, "a bespoke one-stop-shop where students can explore their interests and then find and successfully apply for their best next step after school".
Our careers advisor is Helen Bartlett.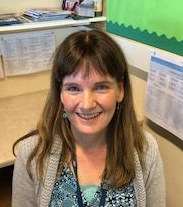 Helen works with young people in college and after leaving education, up to age 20, in order to help them make successful transitions into employment, education and training. She supports students through one to one careers guidance interviews with students in Year 11 and any students who need support in Years 12 and 13. She can help students identify their skills, provide them with information on all the options available to them and support them to broaden their horizons and access their chosen path. She works in partnership with regional schools and colleges and other support providers. Helen also attends the 6th Form Open Evening, Year 8 Options Evening, Careers Fair and GCSE results day to support students and their parents. She provides assemblies and talks on apprenticeships and option choices to different year groups.
Management of provider access requests
Providers wishing to request access should contact:
Dominic Fenton, Careers leader, telephone (01752) 691000
Email: dfenton@ivybridge.devon.sch.uk

Opportunities for access
A number of organised events, integrated into the College calendar will offer providers with an opportunity to speak to students and parents/carers. Please see our careers programme and College website to find out more about opportunities offered to our young people and speak to our careers leader to identify the most suitable opportunity for you.

Premises and facilities
The College has a range of venues and facilities.
Visitors are welcome to leave a copy of their prospectus or relevant course literature at College reception.
Destinations
Of students who completed KS4 in 2016, 97%, were in sustained education, employment or apprenticeships, and in 2017 95%. This was significantly higher than the national proportion (94%).
Traditionally the College has a higher proportion of students who move into apprenticeships, 11% in 2017. About 55% of students continue into the College Sixth Form.
---
For a comprehensive list of possible alternatives to A Levels or degrees
once results have been received please see the Apprenticeship
Opportunity Bulletin August 2020 tab below.
---
CSW - Summer 2020
CSW is an organisation that supports young people as they make important transitions in their lives. Their network of Career Development Consultants are all qualified career guidance practitioners and they can provide additional help at key times including exam results days.
Exam results
Are you worried about your results or want more information on the options available to you? CSW will be offering a Results Rescue Service for all education leavers from Thursday, 13 August, until the end of August. We will have qualified advisers available to take your calls or respond to on-line queries during this time – contact us on 0800 97 55 111
Please see the tab below for further information.
---
DfE Resources for Post 16 options
The Department for Education has put together a couple of simple and handy guides to inform young people and their parents about all of the options open to them post16
C.V. Templates and Ideas
https://www.careerpilot.org.uk/information/a-job-or-career/cv-builder
https://www.reed.co.uk/career-advice/school-leaver-cv-template/
https://nationalcareers.service.gov.uk/get-a-job/cv-sections
---
** Information from The Focus Training Group regarding changes due to
Covid-19 - April 2020 **
All of your students that came in for the taster day, have been contacted by phone (to complete a telephone questionnaire/interview as part of the selection process), they would have also completed an online piece of work (a formal letter/statement on why they wanted to be considered as an electrical apprentice) so they have all progressed. We are still planning on a September cohort start date for potential apprentices and whilst we appreciate things are difficult for everyone at present, hopefully when we all get back into some sort of normality then the application process will move forward.
Please see below contact details for The Focus Training Group should anyone want to contact them regarding the 'Have a go' taster days for Electrical apprenticeships.
Trevor Barnes
Employer Engagement Officer
The Focus Training Group
Tel: 01752 348980
Mob: 07836 536590
Email: trevor.b@tftg.org