National Thank a Teacher Day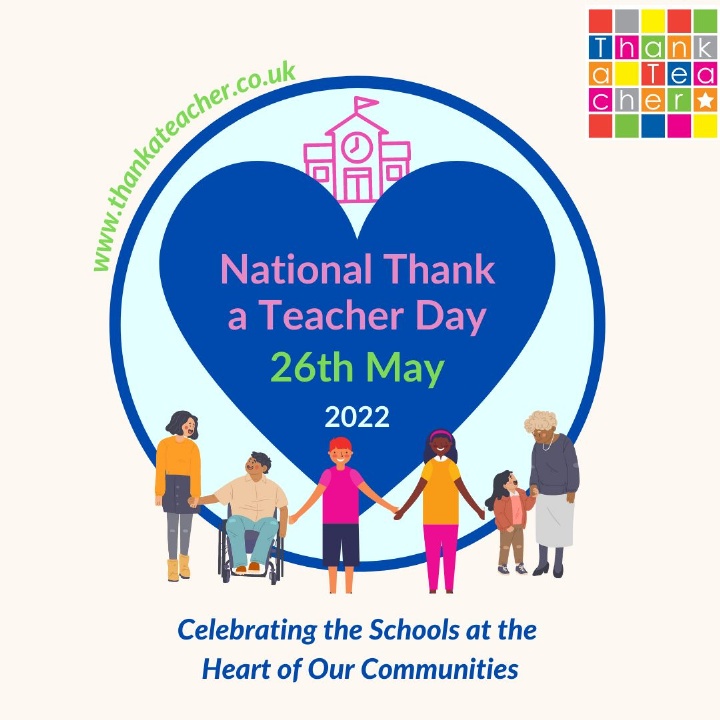 Join the whole of the UK in celebrating National Thank a Teacher Day on Thursday, 26 May.
This day is dedicated to all the schools and colleges at the heart of our communities, from the teachers helping us make sense of the world to all the wonderful support staff keeping things running.
Anyone can send a card for Thank a Teacher Day. The Thank a Teacher campaign recognises ALL staff working in UK schools and colleges; school leaders, teachers, teaching assistants, and all support staff such as lunchtime supervisors, caretakers and cleaners.
To send a FREE personalised thank you card through the National Thank A Teacher campaign please click on this link.
The Thank a Teacher Campaign is run by The Teaching Awards Trust which was established in 1998 by Lord David Puttnam CBE, to celebrate and recognise excellence in education.
The charity's mission is to raise the profile of the teaching profession, highlight the positive impact teachers and school leaders have in our society – with students, parents and the wider community, and show teachers how much they are valued. They do this through the annual Pearson National Teaching Awards and the Thank a Teacher Campaign.
We've all had a great teacher. They show a real interest in who we are, listen to our thoughts, inspire us to learn and encourage us to achieve our best, no matter what our goals are. The influence of a good teacher lasts a lifetime
For more information please visit https://thankateacher.co.uk/