Sisters Run Marathon for Charity during Lockdown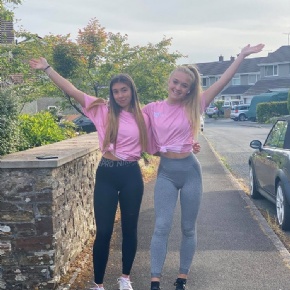 Ivybridge Community College Year 12 student, Poppy Vernon, and her sixteen year old sister, Hazel, have run a marathon during lockdown.
The two teenage sisters from Horrabridge, near Tavistock in Devon, completed the feat by running one mile every hour for 26 hours in order to raise money for Tommy's, the baby charity.
The girls were inspired to do the fundraising after the charity provided support to their Mum and step-dad following a miscarriage in 2019 and they have since become big sisters to two little boys, Alfie on their Dad's side, and Quinton, their Mum's very recent arrival.
Poppy, said, "During the lockdown, Hazel and I have been trying to stay fit and entertain ourselves without falling into the trap of watching too much TV or getting stuck indoors. I started to do exercise vlogs on my Instagram account which became really popular and it was then that Hazel and I had the idea of creating ourselves a fitness challenge."
"Both of our parents and step parents have had two baby boys in the last three months and my Mum lost a baby last year. It means that Tommy's was the perfect charity for us to raise money for."
Hazel, is a national level tennis player who attends an Academy at the University of Bath. She has had to find alternative ways of maintaining her fitness whilst she is unable to do her 22 hours of tennis training per week. She said, "All I have been able to do is play tennis against a wall in the garden, so running has become an integral part of my fitness regime. We aimed to raise £300, knowing that people are struggling financially at the moment but we were blown away when we raised over £1000 (and it is still rising!)"
Poppy and Hazel did the miles throughout the day and night in Horrabridge and were well supported by local people, "We couldn't believe how many people came out, cheered or beeped their horns each time we ran past them." Said Hazel, "We had people give us donations, snacks and even two little girls that made a banner too! We ended the run in Youldon Way and were amazed when a small (socially distanced) crowd were there to congratulate us!"
Additional donations can be made by going to Poppy and Hazel's 'Just Giving' page: www.justgiving.com/fundraising/poppyandhazel