National 'Thank a Teacher' Day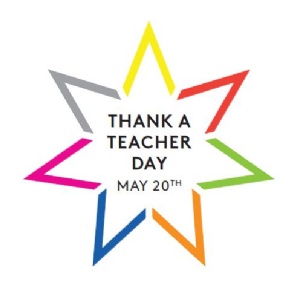 Thank you to all of the students and parents who have contacted the College to share their appreciation of our staff.
Here are a selection of the wonderful comments on national 'Thank a Teacher' Day -
"Thank you for constantly working hard given the circumstances and persevering to help us with our work." Jack, Year 8
"Thank you, Miss Sheridan, for always being kind and supportive, as well as an amazing teacher! You brought me from a 5 to an 8 in English and I couldn't have done it without you!" Evie, Year 12
"Thank you, Mr Keogh! You've always been very helpful and supportive (and dumbed things down for me when I've needed it he he)." Thank you! Evie, Year 12
"I would like to thank all of the teachers at Ivybridge Community College you are all amazing and have help so many students achieve their dreams you are all excellent. I would especially like to thank Miss Thorne, as she is amazing and helped me to find a love for English. I would also like to thank Mrs Mandeville as she has helped me get through the past two years, which has been a challenge. So thank you so much I can only dream of being as amazing as you all." Elizabeth, Year 11
"Both my daughter and I would like to say a massive thank you to Bev Tyson for keeping in touch with us via e-mails and a phone call she's been so supportive with difficult times we're going through. She genuinely cares and is an amazing teacher. She's a real credit to Ivybridge Community College." Parent of Year 11 student
"I would like to thank my Spanish teacher, Mrs Murphy, as she is frequently keeping in contact with our class and offering support as well as extension activities for the main task set. Muchas Gracias!" Freya, Year 9
"Mr Jewell, thank you for being a really fun teacher." Ned, Year 7
"To Ms Hewish, thank you so much for your support of my girls in Year 10 and Year 8. Neither are in your tutor but they appear to have adopted you! You give them both the space and support they need in a school like Ivybridge, and make school a space to grow. . . Thank you and keep up the good work!" Parent of Year 8 and 10 students
"Dr Turpin is the best supportive Tutor ever!" Max, Year 7
"To Miss Pearce, Thank you so much for teaching me French the past 3 years I thoroughly enjoyed it and I'm missing our lessons a lot." Shannon, Year 11
"Thank you to Mr Heath for being the best tutor you are lots of fun!" Oliver, Year 7
"To Miss Dent, thank you for all the things you have helped me with especially on Mondays and always being so supportive towards me. The amount of times you have had to put up with me coming to you to tell you things you probably didn't want to know you put up with it and I am forever grateful for you and appreciate you a lot!" Daisy, Year 11
"To Mrs Tyrrell, thank you for your support during the last year of school especially when I was going through a rough time. The amount you helped me and you listened to me when I needed you the most is incredible. It really helped knowing that I had someone I can trust with such serious things I will forever be grateful for you!" Daisy, Year 11
"All the teachers have done such an amazing job on supporting the whole school through these unprecedented times but I would like to say thank you to Mrs Hewish for always supporting me and the girls at lunch and giving us the time to talk to you about how we're feeling as well as doing Friday lunchtime revision sessions. Also to Miss Sheridan for helping me find and develop my love for English lit and for always giving up your time to mark my book-long essays! Jasmine, Year 11
On Wednesday, 20 May, the country is celebrating teachers, senior leaders, support staff and all those working in education settings who are making a difference to their schools and communities during the Coronavirus outbreak. You still have time to complete the postcard here or just send a message to the College via this website link so that we can share your thanks. If you want you can produce a video – singing a song, writing or reciting a poem, or a drawing. For more information about National Thank a Teacher Day and for details on where to send your entries, please click here.
We look forward to receiving your messages.