County Cup Tennis Champions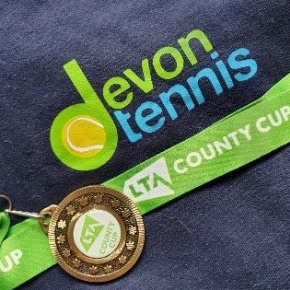 Ivybridge Community College students Leighton Starkie - Pell, in Year 10 and Joe Kellett, in Year 13 have much to celebrate as they were part of the Boys' U18 Devon Team that won the County Cup tennis competition earlier this year.
Leighton said, "I was proud to be selected for my first U18 County Team competition. It was a great experience being with older players who have been part of the team for a number of years. Being in a winning team is always good but the team spirit regardless was always high. Hopefully I can be part of next year's team." He added, "Since we finished at College I have been using my local area to get in lots of training runs and strength and conditioning sessions. I have also been shadow hitting, which is hitting the shots without the ball. I am looking forward to finally being able to get back on a court again."
Joe commented, "It was a great weekend, with good team spirit. I am proud to be part of the Devon Tennis team and we had good performances all round to win against all three counties to gain promotion for our team for next year. Since College finished a few weeks ago, I have been keeping busy with lots of strength and conditioning, running, cycling and training, and finding a way to still practise tennis skills without a tennis court, finding inventive ways to still be able to do some service practise as well. Also trying to keep some work ticking over so I can be prepared for whatever happens in months to come."
"What a superb weekend for the Boys' 18U Team. The loss of just four rubbers throughout three tough days of competition shows the huge effort that each and every player put into the event. It was a superb team effort from all eight players who were just 'on it' the whole time, making the Devon coaches jobs so much easier, well done boys I couldn't be prouder!" Devon Tennis coach.