The Times showcases Former Student Joe Simmonds
Ivybridge Community College was delighted to have been mentioned in an article that appeared recently in The Times newspaper.
The sports piece showcased former student, Joe Simmonds, and his continuing success with the Exeter Chiefs Rugby Team.
In the article it says, "He went to Ivybridge College – a noted local proving ground for Chiefs players – for two years before signing for Exeter. He has been at the Chiefs for four fervent years, and has been proceeding at a rate of knots."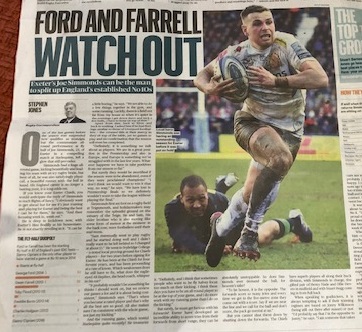 "We are delighted and proud to read about the successes and achievements of former student Joe Simmonds and for the wonderful quote from Exeter Chiefs. The College has continued over the last 25 years to be a breeding ground for rugby players, who have achieved a true pedigree standard and Joe is an outstanding example of this." Gill Taylor, Deputy Principal.