Mathematical Challenge Raises Money For Cancer Research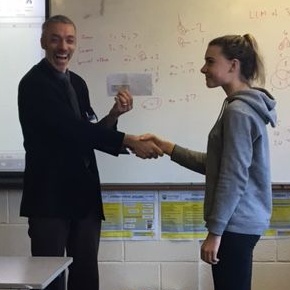 In a sterling effort, 13RBW managed to raise over £200 for the Year Group Charity, Cancer Research UK, by getting participants to simply guess a number...
..however, there was a twist. The person choosing the lowest unique number would win the jackpot prize of £20. Numbers had to be positive and whole numbers (integers) only were allowed.
This may sound a little complicated but here is an example to help:
If you chose the number '1' and everybody else selected a number larger than that, you would win the prize of £20. However, if someone else also selected '1', that number is no longer unique and the lowest possible winning number would now be '2'.
In the event, Ella Methven in Year 13 won the competition as she chose the number 34 and all the numbers under 34 had more than one person choose them (with the exception of 30, which wasn't selected at all). The most popular numbers were '1' and '13' both with nine responses. Over 200 people took part in the challenge and they had to pay a pound to enter.
This was a fun and easy way to raise money for charity, and the results are now being used in Maths lessons across the College!