Students through to European Youth Parliament National Final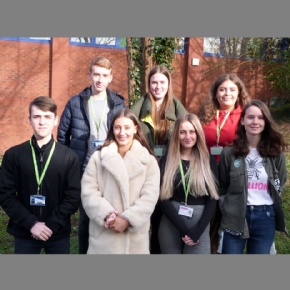 For the second consecutive year, Ivybridge Community College Sixth Form students have returned triumphant from the regional European Youth Parliament debate in Exeter.
The Year 12 team consisting of, Eleanor Andrade May, George Flay, Emily Gitlin, James McCarthy-George, Lily Richards, Kira Tunnicliffe and Anna Wilson, spent the day at Exeter County Hall pitting their wit against five other schools from the South-West. This involved the attending schools discussing and debating issues in a civilised manner ending with a vote for whether the motion should or shouldn't be passed.
Not only did our victors successfully defend their own resolutions on combatting climate change, they also partook in a wide range of debates, covering such topics as the ongoing conflict in Yemen, encouraging young people's interest in politics and restoring faith in the European Union.The group were commended on their extensive research and thorough preparation, their ardent note taking and the equal representation of the team by each member. It is due to this adjudication that the septet will travel to Liverpool in June for the national final, held over four days. From the final, there is subsequent opportunity to advance to Belgium and represent the United Kingdom.