Powerful Alcohol Awarness Performance by The Solomon Theatre Company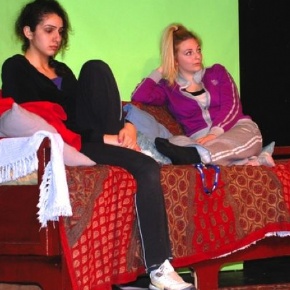 Ivybridge Community College continues to pride itself in developing students' life-skills and equipping them for the challenges of growing up in the 21st Century.
Recently, Year 9 were taken off timetable to teach them about aspects of life beyond academia. The day began with a powerful performance by The Solomon Theatre Company, highlighting the unwanted effects that alcohol can have and the dangerous situations that young people can find themselves in. The play was highly engaging and students were gripped from the start because of its humorous portrayal. This was then complemented by the leader of the group both sensitively and informatively carrying out a workshop based on guiding students through issues of vulnerability and also the potentially harmful nature of the internet. Through this powerful medium, the true message of teenage safety was clearly highlighted and students were found to be actively discussing this afterwards. This is always a great sign of a performance's impact. I would thoroughly recommend this to any school who places the health , safety and welfare of its students at the forefront of everything they do.
Mrs Helen Ryder