Stunning Performances in College Christmas Production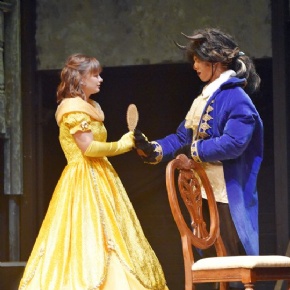 Before the Christmas break, five performances of Walt Disney's Beauty and the Beast were undertaken by Ivybridge Community College's Performing Arts, Dance, Drama and Music Departments. This wonderful interpretation was enhanced by a live orchestra, which provided superb music, as well as giving a true theatre experience.
This wonderful interpretation was enhanced by a live orchestra, which provided superb music, as well as giving a true theatre experience.
The evening and matinee performances were a sell-out, with some members of staff even watching it twice! Both children and adults alike were entranced by the magical performances of students from the College. It was full of romance, comedy and beautiful singing. All cast members were superb, with an age range of 8 to 18 years; which created a rich experience for the audience.
The set was built by students from the College, including former student Sam Gingell, who returned especially to undertake this task. In addition, the superb lighting and sound production ensured that the audience were provided with the perfect setting for the performance.
Many of the Year 13 students are presently auditioning for university and performing arts courses and we wish them all success in their future careers.
Gill Taylor, Deputy Principal stated, "Every year I think that the students will never be able to surpass the previous year's production, and every year I am amazed that the bar has risen yet again! It was a truly enchanting and magical experience for all the family."
Wonderful reviews
"I was completely blown away last night by the accomplishment of our students and staff in producing such a perfectly polished production of Beauty and the Beast. For a couple of hours I was transported back in time to a place of magic, wonderful song and enthralling set design. Ivybridge Community College has raised the standard of Performing Arts again this year and as a teacher of many of the cast and crew members I felt exceedingly proud and privileged to be part of this College." Lisa Sheridan, English Teacher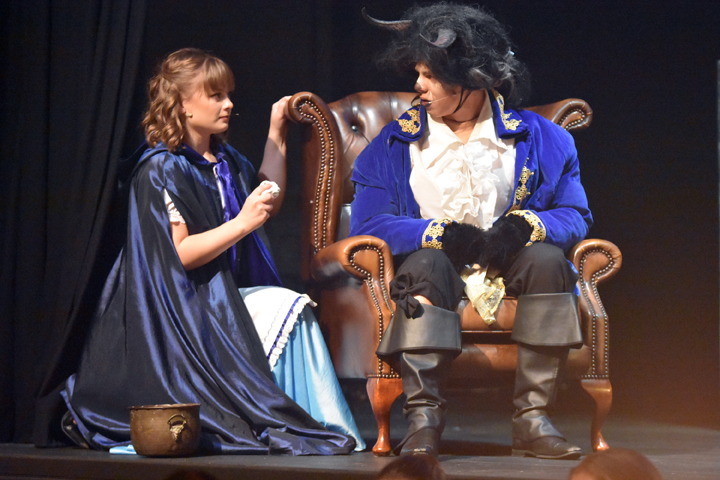 "It never fails to amaze me the talent and dedication our students have to College productions. Congratulations to all involved for a wonderful performance, not forgetting the musicians and everyone who worked so hard behind the scenes." Caron Russell, Mathematics Resources Assistant
"The opening night of Beauty and the Beast highlighted some of the exceptional young talent we have at Ivybridge Community College. Students from primary to Year 13 delivered an enthusiastic and highly professional production that had the audience transfixed. I was there as a teacher of many of the cast, as well as a parent, and I couldn't be more proud of their fantastic performance. What an amazing experience for all!" Jenni Bindon, Lead Practitioner for MFL
"I am in awe of the confidence and talent of our students. Some of the stand out performances would transfer to the West End stage without question. I'm always a little humbled by the effort, enthusiasm and discipline demonstrated by each and every one of the cast and crew!" Cate Pyne, Mathematics Deputy Team Leader.