Nancy Astor - Equality and Representation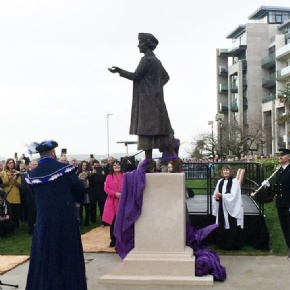 Ivybridge Community College was honoured to be one of a number of schools who supported the fund-raising for the statue of the first woman MP, Nancy Astor.
On Thursday, 25 November this was achieved, when a group of students from the College attended the unveiling ceremony by Theresa May, on the Hoe, in Plymouth, near Lady Astor's family home.
Nancy Astor was elected to represent Plymouth Sutton in Devon for the Conservative Party, a seat she held until stepping down in 1945. A fitting quote by Lady Astor is engraved onto the plinth, which reads, "Real education should educate us out of self into something far finer; into a selflessness which links us with all humanity."
Mrs May said, "For two years she was the only woman in a house which was quite simply not designed for women. A place for honourable gentlemen, of smoking rooms, and with no ladies loos. But she ignored the jeering, the patronising and the bawdy jokes and began to make the House of Commons an easier place for the many, but still too few, women who followed her. Plymouth and the whole country should be proud of the great strides Nancy Astor made for equality and representation."
"It is for this very reason that students from Ivybridge Community College felt it was important to attend the ceremony, to ensure that we uphold the importance of the British value of democracy", said Mrs Taylor, Deputy Principal.
Miss Hanton, Associate Leader at the College who organised the event said, "It was fantastic to see such a wide range of students attending this celebration, with students from Year 7 up to Sixth Form in attendance. It was a privilege to attend and to hear the students discuss how vitally important it is to continue to fight for equality within politics."