Royal Navy Chefs Inspire Students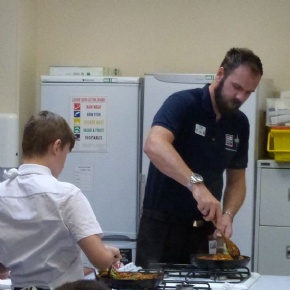 On Wednesday, 11 September Ivybridge Community College were delighted to welcome The Royal Navy Catering Services Team (Logistics Branch).
They delivered a range of food based Careers Presentations by means of 'cooking' and 'cook –along' demonstrations to four Food Technology classes across Years 9, 10 and 11.
The professional chefs were inspiring and engaging. The students really enjoyed the lively hands on practical sessions, gaining not only some skills practice from the in-service officers, but also an insight into career opportunities with the Royal Navy.