Felix's Lands End to John o' Groats Charity Fundraising Experience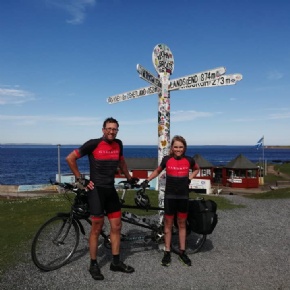 From Saturday, 25 May to Friday, 7 June, Ivybridge Community College Year 10 student, Felix Wood, rode his bike, along with his father, from Land's End to John o' Groats.
His 14 day epic charity fundraising journey, raised money for 'Pete's Dragons' which is an organisation that supports suicide prevention and mental illness. He covered a distance of 975 miles, and averaged 70 miles per day, with the longest ride being 82 miles.
Felix said, "I feel very strongly about raising awareness of mental health issues, because people don't always understand it, and it is very important to get people to talk about it more."
Following his amazing journey he said that, "The best part of each day was getting to the end and knowing that I could just relax. Two of the biggest milestones were climbing Shap Fell (which has its peak at 1350 feet above sea level) and reaching Scotland. The definite lowlight of the ride was day 12, which was our longest day and included two of our hardest climbs. On that day we were travelling from Blair Athol to Inverness which took us over the Highlands, made worse by the awful weather.
I didn't really need motivation to keep going as the support I was receiving was what kept me feeling positive and that I could do it, I enjoyed reading the comments on my Dad's Facebook posts as I was receiving a lot of praise and support from them. I did not feel like giving up as I did not have the option to. I kept telling myself that there was no way out of it and the best thing to do was keep a stiff upper lip as that was what would get me through it.
I enjoyed riding alongside the canals as there was a lot to look at and it was very quiet, however, the canal paths were usually in very bad condition which made it hard to ride on for a long while. At one point we had to spend 5 miles on a canal path that was just grass and mud.
All things considered, I would like to do it again. It was overall a positive experience that gave me many memories."

To date, Felix and his dad have raised £2,485 on the JustGiving page - https://www.justgiving.com/fundraising/2UP-LEJOG and still have some pledges to add on.

Laura Chalmers said, "As Felix's Tutor I am so proud of his endeavour and achievement and it proves that with effort anything is possible."
Please click here for further information regarding this remarkable achievement.