College Athletics Team Celebrates another Successful Season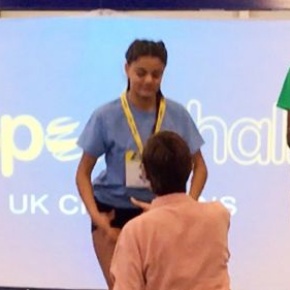 The Ivybridge Community College Athletics Team is celebrating yet another successful season, with strong team and individual performances.
The Years 7, 8 and 9 teams each won the West Devon Super 8 competition with the Year 7 team going through to the Devon Finals. Sadly, there is no further competition for the Year 8 and 9 teams.
We again entered 4 teams in the English Secondary School Athletics Competition. Each team performed well at Exeter Arena in May, but special mention must go to the Intermediate Girls' Team, who finished 1st in Devon and Cornwall. They recently competed in the South West Regional Championships and narrowly finished 2nd to St Pate's Grammar School, Cheltenham.
There have also been a number of individual successes, with many athletes selected for the Devon Schools Team.
Jarred Waldron, Head of Year 10 said, "Special mention must also go to Lili Fern in Year 9, who finished 1st in the 2 lap race in the National Finals, in Manchester, earlier this year. Lili is a strong runner who has a wonderful athletics career ahead of her."