Dream Show is perfect combination of Theatre, Gymnastics and Dance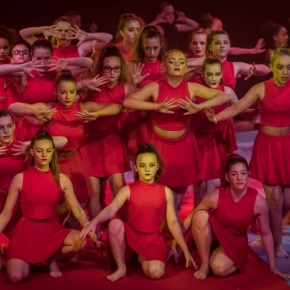 Ivybridge Performing Arts show takes 3,000+ audience on Broadway Journey
The scene was set – four ambitious Ivybridge Community College students embark on their journey to become Broadway stars – armed with just enough confidence, a huge amount of ambition, and their friendship to help them through.
This was the backdrop for DREAM – Ivybridge Community College's most ambitious Performing Arts Show to date – with more than 500 students and guest performers displaying their talents over seven shows.

The impressive spectacle involved more than two hours of performances, with acts that showcased the vast performing arts talent at the College. Opening with a twist on the opening from A Chorus Line, the show took our characters through a variety of acts, including musical theatre performances from Annie, superhero acrobatics, gymnastic interpretations of the Nutcracker, an American Diner act and stunning dance pieces.
"This year's show was our most 'complete' show so far," said Helen Reddy, Head of Performing Arts, who masterminded the show over two months of intense rehearsals and preparation. "Our students pulled out all the stops, performing exceptionally at every show. I'm immensely proud of them all."
The four main characters were played by Alex Ward, Emily Rule, Ella Beddow, Leah Hulcoop and Mitch Siddons.
The show culminated in a dramatic interpretation of the musical The Lion King, which included gymnasts, singers, dancers, musical theatre group members, a full-cast rendition of Circle of Life.
Among the acts on show from guest performers included rhythmic gymnast Jade Faulker, who competed at the 2012 Olympics; German aerialist Anna Abrams, who performed a daring 'corde lisse' act; a Beauty and the Beast-themed piece by Honiton Gymnastics Club; performances by guests from Heinrich Von Kleist school in Bochum, Germany; hand-to-hand specialists Duo Dunamis; and dancers from Italia Conti. There were also recitals from performers aged as young as five from Ivybridge Community College's partner primary schools who took part in the Primary Gymnastics and Primary Dance Academy pieces.
Helen Reddy, added: "It has been such an amazing experience for all involved and, as usual, I am overwhelmed by the dedication and effort that our students showed. Despite many tired performers after seven challenging shows – the opportunity to be involved in something so memorable and spectacular doesn't come along very often, so I hope this magical experience will remain with our students and their families for the rest of their lives.
"When we first started the show it was on a much smaller scale and took place in the Performance Hall. Now, ten years on, it has grown to such a size that every show in the Sports Hall is a sellout and has a reputation for excellence throughout the country. It is a wonderful spectacle to see students from all Year Groups performing together and delivering such professional performances."
PHOTOS
All photos provided courtesy of Ben Lee Photoimagery