Jake Myers' Pony Team victorious in Nations Cup
Ivybridge Community College Year 10 student, Jake Myers, competed in Austria as part of the Nations Cup Great Britain Pony Team.
He travelled out as part of a squad of 6 from which 4 riders were selected based on their performance out in Austria, to compete as a team in the Nations Cup competition. Jake and Razorlite jumped clear picking up an 8th place and therefore made it to the final team.
The British Pony Team proved victorious in their Nations Cup competition at Lamprechtshausen on Saturday, 18 May 2019, winning the Gold Medal. Jake's mum, Jo Myers said, "We still can't quite believe it. It's a dream come true to represent your nation and win."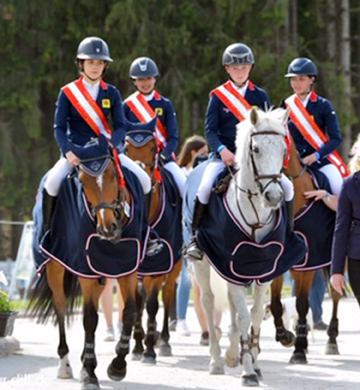 The course proved to be a tough one to ride with all nations notching up high scores in the first round, along with the majority also doing the same in the second. With all teams accumulating faults it was a 28 penalty score at the end of the first round for Great Britain which saw them sit in 3rd place at the halfway stage. Discussing the course with Clare Whitaker, their Chef d'Equipe and British Showjumping Youth Team Manager, before coming back in to face it for the second time certainly paid off as they only had to carry a further 4 penalties between them. With other nations continuing to error it was a two place climb up the leader board to see Great Britain claim the title as their own and push Italy and Austria into the lower placings. Talking after the presentation Clare Whitaker said "It's been a great day for us and we are absolutely delighted to have won what proved to be a hard competition to claim."
Congratulations to Jake on your continuing Showjumping successes.