Staff show support for Anti-Bullying Day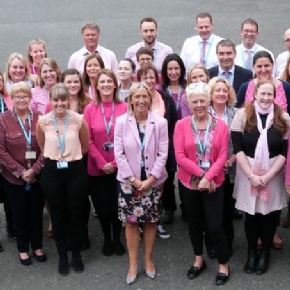 On Friday 3 May, staff at Ivybridge Community College showed great solidarity when they dressed in pink to support the United Nations Anti-Bullying Day.
People everywhere are encouraged to celebrate diversity by wearing a pink shirt to take a stand against bullying.
"I am delighted to see that so many staff have supported this day. It gives a clear message that Ivybridge Community College continues to make the College a safe place to work and learn," said Einir Shore, Associate Leader.
Our newly appointed Anti-Bullying Ambassadors have encouraged staff and students to stand up against any form of bullying by leading on assemblies on
Anti-Bullying, creating a new Anti-Bullying display board and organising a 'Give a Compliment Day', to encourage all of us to focus on positivity amongst students and staff. Future plans will involve writing a student friendly Anti-Bullying policy and creating a Wellbeing garden.