Thank you from the Chipembele Wildlife Education Trust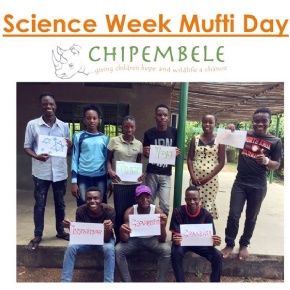 We are delighted to have received this picture sent to us by the Chipembele Wildlife Education Trust, the charity for our Science Week mufti day. Thank you so much for everything you did to support this fundraising; money will be put towards scientific research for the purposes of conservation and paying for students to be able to go to school.
As part of our Science Week celebrations in March, we held a mufti day with an optional competition to 'dress like a Scientist'.
The charity we are supporting is the Chipembele Wildlife Education Trust who educate children to become researchers, conservationists, park rangers and to work in ecotourism, rather than resort to poaching, which is causing many of the most famous (and many of the non-famous) species of African wildlife to become endangered, including the elephant. In doing so, they also sponsor children to go to school and University. More information about this charity can be found here: https://www.chipembele.org/.