Creativity Abound, When Adisa's Around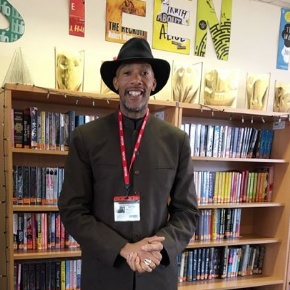 On Monday, 1 April the Learning Resource Centre welcomed Adisa as part of the on-going celebrations of Book Quest, the College's reading challenge.
Adisa is an outstanding poet and naturally gifted in his performing, having the students laughing and rhyming in minutes.
Year 8 students were invited to attend workshops with Adisa, which were entertaining as well as inspiring. Each of his four sessions was completely different, showcasing a range of ways to write poetry. One session focused on describing people as objects; another had students exploring their own personalities; one centred on the different types of music; while the other had students recounting memories linked with food.
Although the main focus was poetry, Adisa used his own life experiences and stories to bring out confidence in others. He encouraged questions, no matter how random or off-topic; he coaxed insightful similes out of shy students with his gentle words; and even reassured students that 'to be right you have to get it wrong sometimes'. By the end of each session, students who may not usually wish to share their work with the class wowed their peers with profound poems and melodic metaphors.
Adisa encouraged imagination and creativity as well as empathy and wider thinking. He told students that his poems were inspired by the people around him. One of the most important people to him was his old teacher who was a good listener. He said that 'good listeners draw stuff out of you, rather than put stuff onto you.'
Here are some of the poems that students wrote.

Pancakes

Every time pancakes sizzle in the pan
it reminds me
of
cold feet slapping on the stone floors
and the l o n g bench, standing lonely
and heat beating down
and treetop trampolines,
a cloud of lavender,
and buried wishes.
The cherry blossom tree,
and church bells scattering sleepy silence,
and fresh blue paint,
and wild garlic,
and the crunch of gravel.

And the clanging of human shouts,
shaking the earth apart.
And my world falling through my fingers.
Pop
The silky curtain vocals are as soft as the clouds
Gorilla drums bash me through to the centre of the earth
The rollercoaster lyrics take me on a journey to somewhere unknown
The fingers on a keyboard catch me whenever I fall
The disco ball shines light on the darkest places when there is no hope.
Quiet
I am a universe; I have no boundaries
I am a cheetah running
I am the silence that rolls over the calm sea.

When everyone is loud
I am the quiet.

Letter Spaghetti
123 it helped me learn my numbers
ABC but writing was my thing
it was sweet and spicy, warm in my mouth
it took me away – distracted my mind from the loud
cacophony of screams and cries. I smelt the blood on my hands.
I felt grief, I felt sad
But it helped me learn my numbers 1, 2, and 3 and my ABC
Her face was cold to my cheek and her croaky voice
the church bells in the distance the man in the moon
looking down on my every move
And the clock in the corner still standing tall.