Gymnastics Academy Amaze at Regional Schools Qualifiers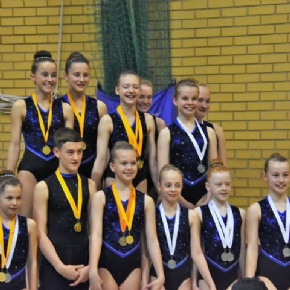 Please enter an introduction for your news story here.
One day, two gymnastics competitions, 273 miles and 128 gymnasts
When the organisers of the south west schools gymnastics events announced that they had put their acrobatics qualifier on the same day as the floor and vault qualifier, 90 miles apart, many schools would have opted to attend just one of the competitions. But, with some clever planning, a team of great supporters, and a huge amount of enthusiasm, Ivybridge Gymnastics Academy brought home its biggest ever regional medal haul, including 22 south west titles.
Starting from Ivybridge Community College at 5am, some gymnasts went to Kingsley School near Bideford for the Floor and Vault Competition while others headed first for the Gryphon School in Dorset for Acro and Tumbling. A quick warm-up, followed by strong competition performances, set Ivybridge Community College Academy athletes apart from the rest, with gymnasts winning individual, partnership and group medals.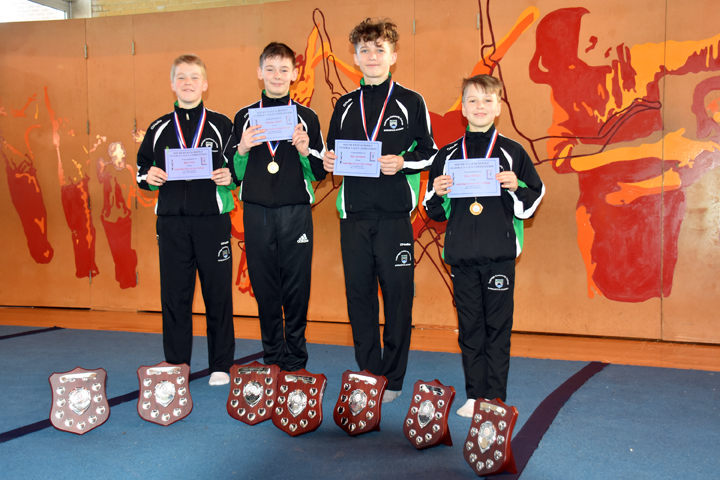 "We didn't think it would be possible when we found out that, for the first time in 20 years, they had doubled up on the competitions," said Helen Reddy, Head of Performing Arts, who is in charge of the Gymnastics Academy. "Ivybridge Community College is the only school in the south west region that enters both competitions, so the onus was on us to make it work, and that's exactly what we did.
With so many exceptional performances, it's hard to single out any one competitor, particularly as we won every category we entered in the floor and vault competition. All I can say is I'm immensely proud of everyone involved, not only for their successes, but also for the way all of our students conducted themselves over the course of the 17 hour day. Every one of our 128 gymnasts, from those in the Primary Academy to experienced performers who are in their final schools' competition season, were positive ambassadors for the College, demonstrating a strong competitive spirit, exemplary sportsmanship and good manners."

Below is a summary of the results from the weekend:
Floor and Vault Competition in Bideford – Team results
1st - Under 11 Girls' Team
1st - Under 14 Mixed Team
1st - Under 14 Girls' Team
1st - Under 14 Boys' Team
1st - Under 19 Mixed Team
3rd - Under 19 Girls' B Team
1st - Under 19 Girls' A Team
1st - Under 19 Boys' Team
Floor and Vault Competition in Bideford – Individual results
Under 19 Boys
1st - Alfie Westerman
2nd - Reece Parkin
3rd - Jon Oxton
Under 19 Girls
3rd - Abi Sandford
Under 14 Girls
2nd - Miah Parnell
Under 14 Boys
1st - Danny White
Acrobatic Gymnastics Competition in Sherborne
Under 11 Group
1st – Stowford School
Under 14 Group
1st – Ivybridge A
2nd – Ivybridge B
Under 19 Groups
1st – Ivybridge A
2nd – Ivybridge C
3rd – Ivybridge B
Under 11 Girls Pair
1st – Megan Wark and Amelia Lucas
3rd – Abbie Endean and Megan Sams
Under 11 Mixed Pair
1st – Erin Tuckwell and Ollie Oman
2nd – Lucy Hulbert and James Hulbert
3rd – Will Trezise and Naomi Goshawk
Under 14 Girls Pair
2nd Chloe Cox & Miah Parnell
3rd Abi Sandford and Lovisa Street
Under 14 Mixed Pair
1st – Alfie Westerman & Abi Sandford
2nd - Danny White & Tara Green
3rd – Sonny Jarvis & Lucy Freeman
Under 14 Boys Pair
1st - Alex Wilson & Danny White
2nd – Sonny Jarvis & Zax Jackson
Under 19 Girls Pairs
1st - Jess Rouse & Lydia Dodds
2nd - Caitlin Barnes & Rachel Farrin
3rd – Faith Ball & Megan Wood
Under 19 Mixed Pairs
1st Reece Parkin & Jess Rouse
Under 19 Boys Pairs
1st – Reece Parkin & Jon Oxton
Under 11 Girls Tumbling
2md – Taliah Mann (Stowford)
3rd – Amelia Lucas (Stowford)
Under 14 Girls Tumbling
1st Miah Parnell
2nd Chloe Cox
Under 14 Boys Tumbling
1st - Alfie Westerman
3rd - Danny White
Under 19 girls tumbling
3rd - Jess Rouse
Under 19 Boys Tumbling
1st - Reece Parkin