Girls' Rugby goes from strength to strength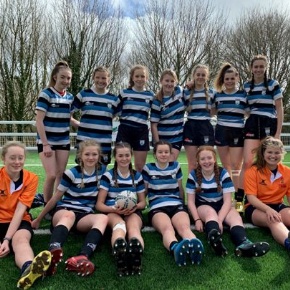 It has been a busy term for Girls' Rugby at the College, with players playing not only for their own teams, but also for the local club side, and a few attended the Devon Selection Days, with the hope of representing their county.
South and West Devon Festival -
On Friday, 1 March the U13 and U15 teams played against teams from South and West Devon schools at Ivybridge Rugby Club, on the recently installed RFU Artificial Grass Pitch.
The U13 team were excited to play their first matches and, along with some new recruits, wasted no time in making their mark on the competition. Coached from the touchline by Mr Shepherd, Head of Rugby at Ivybridge Community College, they sat down to lunch with six victories from six matches, and just one more match to play. They drew the final match, but all in all, it was an amazing first outing. Led by the experienced Kayleigh, in Year 8 and Nicole, in Year 7, but still a team made up predominantly of players new to the game this year, they should be very proud of their achievements.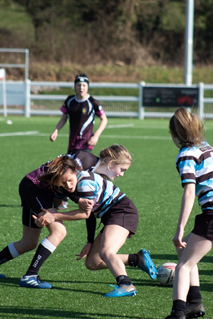 "With a lot of girls new to rugby it was outstanding to see those taking to the game so well. The day began with a convincing win; this then gave them confidence to move on and finish the day on a nail biter against Kingsbridge (who were the favourites to win). We were leading until the last play of the game, eventually drawing 2-2. The girls had a magnificent day and I hope that they keep progressing and moving forward to play rugby in the future. With the six wins and one draw this shows the massive amount of potential our girls have", said Mr Shepherd.
The U15 team did equally well, confident with the chemistry formed in recent club matches, they faced three teams from other schools. They won their first two matches and then drew their final match. With the format at 10-a-side, and playing on half a pitch, it was tricky to play the expansive rugby that they are so good at, but with Year 9 students Cat and Lottie, and Ruby, in Year 10, punching holes in the central defence, space was soon created for the likes of Year 9 students Jay, Molly and Elysia, and Kiera, in Year 10, to exploit. Meanwhile newer players like Emily, Isabelle and Liv, all in Year 9, impressed with excellent work securing the ball, and maintaining a solid defensive structure for the team.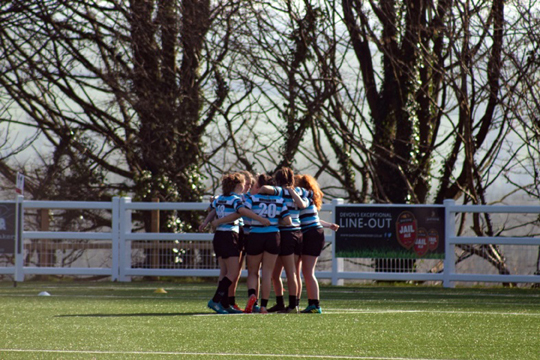 "It was a really good day; we are very pleased with the progress the girls have made over the course of the year. Credit where credit is due to our girls, it takes some doing to go against more established teams and put together some cracking phases to counter attack the defence like they did. The other schools played really well and caused us a few issues, and you cannot underestimate other teams we play against. So we are chuffed to bits to perform to a level that allowed us to score plenty of points during the day. It was a really pleasing win for both age groups"- Mr Northcott, Rugby Coach.
Girls' Rugby at Ivybridge Rugby Club -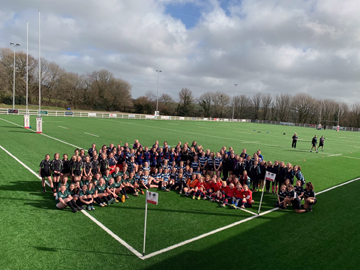 Some of the U13 and many of the U15 side continue to attend training sessions at the newly established Girls' Rugby Team at IRFC. The College and the Club are very proud of this collaboration, as it requires a great deal of hard work setting up new sports in both colleges and community sports clubs. It was therefore really rewarding to see the hard work paying off when the U15 team played their first club matches against Brixham Rugby Club recently. Even more impressive was the fact that on both occasions, home and away, the U15 IRFC side won convincingly against Brixham. Match playing experience cannot be beaten for individual development and building teamwork and interplay. Both the College and Club can look forward to building successful local girls sides of the future.
Devon Selection -

A number of our students attended the Devon selection days for both the U15 and the U18 age groups. Even though there are fewer girls playing rugby in the county, the standard of play is still at a very high level. Some of the girls were disappointed not to get through, but the selection process experience was invaluable to them and therefore, as a result, they will be in stronger position to try out again next year.
We are however delighted to announce that Year 9 student Niamh was successful at U15 selection, together with another Year 9 student, she has already attended her first training session and played her first match for Devon Girls. Well done girls, and we look forward to you sharing your experiences with us all on the training pitch.
Rosslyn Park 7's -
The U18 7's Team, who have only been playing together for a short time, are currently training hard for a national 7-a-side tournament at Rosslyn Park, West London, on Friday, 29 March. Rosslyn Park is famous for 7's rugby and brings together some of the strongest rugby sides from all across the country.
"The girls know it will be tough, but have dedicated themselves to the challenge in a most commendable way, attending training regularly and working hard to learn the skills of 7's rugby. We still have work to do, but both Mr Shepherd, Mr Northcott and myself are very pleased with the progress the girls are making and the commitment they have shown." Mr Kerswell, Science Teacher and Girls' Rugby Coordinator.