Pierre represents College at British Schools' Judo Championships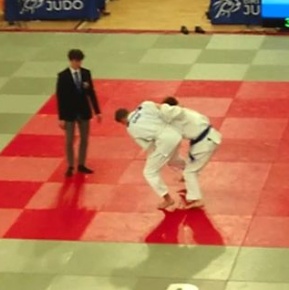 On Saturday, 16 March Ivybridge Community College Year 11 student, Pierre Michelin represented the College in the British Schools' Judo Championships, at the English Institute of Sport, in Sheffield.
With Over 700 competitors this is the second biggest competition on the British Judo calendar (after the British Nationals).
Pierre was competing in the Years 10 -11 U73kg category, and with 18 competitors in his group it was one of the biggest groups of the day. Pierre weighed in at 10am and had a long wait as his group was the last group of the day, competing at 5.15pm.
Pierre had a bye in the first round, won his second round with a hold down, and then won his third with a big Ippon throw. Pierre made it to the top of his group to earn a place in the semi-finals. Unfortunately he hurt his knee whilst trying to counter an attack, but carried on regardless to narrowly lose that contest by just one wazari. Pierre narrowly missed the Bronze Medal contest due to his knee getting worse. A hard day on the tatami but a well-earned 5th place at this year's British Schools Judo Championships.