European Youth Parliament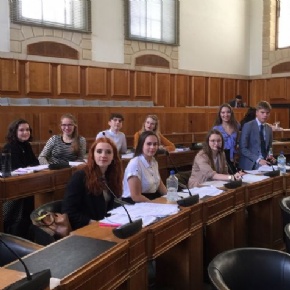 On Monday, 4 March, nine Year 12 students represented Ivybridge Community College at the regional European Youth Parliament event at Exeter County Hall.
The students represented the Committee on Environmental Affairs, supporting a resolution on sustainability in the fashion industry, as well as debating five other topics, ranging from the fate of Gibraltar after Brexit, to the repatriation of artefacts from the European Union to African Nations whence they came.
The team really impressed the judges at the competition, who praised their research, cooperation as a team, and respectful and inclusive debating strategy. As a result, they were selected to go through to the national finals in Liverpool in September, comprising a four day residential stay, which will really put them through their debating paces.