The Magical World of Harry Potter Returns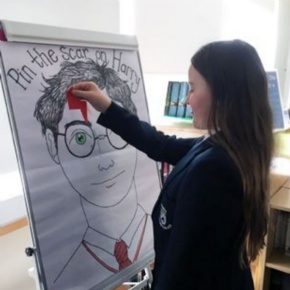 Thursday, 7 February saw the return of Harry Potter Day in the Learning Resources Centre at Ivybridge Community College.
Once again the librarians took to it like a Kelpie takes to water (for Muggles, a Kelpie is an aquatic creature with the head of a horse, a serpentine body, and kelp for hide).
Student librarians helped to decorate the Learning Resources Centre the day before with dozens of handmade Hogwarts Acceptance letters dangling from the ceiling, almost like magic!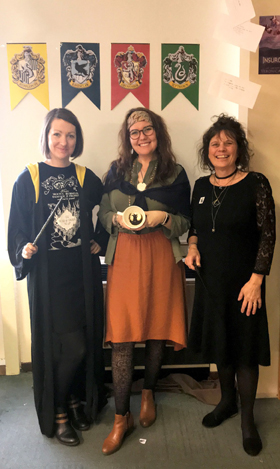 Throughout the day, Moaning Myrtle (or maybe you know her as Mrs Pitcher) lead disgustingly descriptive potions sessions, that ended with Myrtle drinking some truly diabolical concoctions of powdered unicorn horn, bat's blood, and frog's livers (or sherbet, fruit juice, and sliced pickles).
At lunchtime, every seat in the library was taken as there were a whole host of enchanting activities to take part in. Harry Potter and the Philosopher's Stone played on a big screen, and nothing puts children under a spell quite like watching a movie does. There were quizzes and word searches, along with 'Wand Chooses the Wizard' and 'Design Dobby a Sock' worksheets. We also had Pin the Scar on Harry Potter and a Potter photo booth with plenty of props.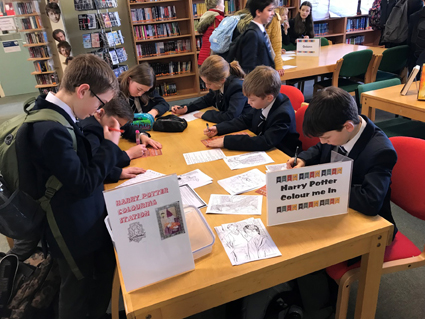 In the weeks running up to this magical day, the Learning Resources Centre ran a raffle in aid of Lumos, a charity founded by J. K. Rowling, which promotes an end to the institutionalisation of children worldwide. Four lucky students won a selection of Harry Potter prizes, and we managed to raise a grand total of £70, which will go towards Lumos' goal of finding loving families for all children by 2050.
It was a wonderful day to celebrate the on-going passion for Harry Potter and the magical world J.K. Rowling created over 20 years ago.