Over £2000 raised for two Charities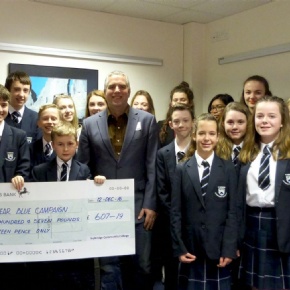 Students and staff raise money for Children in Need and Bullying UK – Wear Blue Campaign
On Friday, 18 November, a whole host of fundraising activities were undertaken by Students and Staff at the College to raise money for Children in Need and Bullying UK. In support of these charities, the whole College was invited to wear something blue, support several bake sales, enjoy music by buskers around the College site and play in a charity football match!
We raised a successful £1575.73 for Children in Need and £607.19 for Bullying UK.
On Friday, 9 December, the Chief Executive of the Wear Blue campaign, Jeremy Todd, visited the College to collect the cheque. On meeting our students he commented 'Sadly, bullying remains a part of many young people's lives, which is why I am so delighted by the tremendous effort and activity of all at Ivybridge Community College. Their ability to raise awareness of a difficult issue in a fun and creative way has been brilliant and Bullying UK is very grateful for the money raised."
Olivia Brown
Anti-Bullying Ambassador