New Maths Block Opened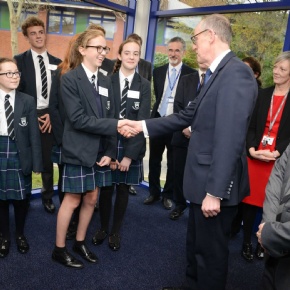 £2.4 million, purpose built Mathematics Block Opened
Ivybridge Community College is delighted and honoured to welcome the Rt. Honourable Nick Gibb, Minister of State for School Standards, to formally open the new £2.4 million, purpose built Mathematics Block on Thursday, 1 December 2016.
There are 12 dedicated classrooms as well as additional toilet facilities for our students and a number of offices. A seamless link has been built to ensure that the adjacent Neil Maythorne building is incorporated within this new structure.
This fantastic building, named after the College's former Principal Mr Rob Haring, will ensure that students at Ivybridge Community College continue to not only receive a first class education, but accommodation fit for a 21st Century learner.