Congratulations and a Fond Farewell to Alan Knight, Former Member of the Governing Board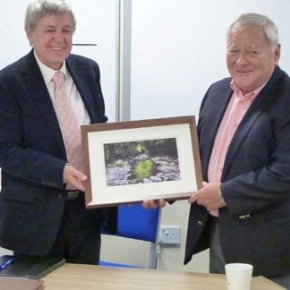 On Monday, 12 November Alan Knight, who has been on the Governing Body since 11 December 2003, was formally thanked by the Chair of Governors, Mr Mike Saltern, for his dedication and commitment to the College.
He said, "I have greatly valued his integrity and commitment to the College and I cannot fault what Alan has brought to the College."
As a member of the Estates Committee and Trustee when Yealmpton joined the Ivybridge Academy Trust, Alan was never afraid to 'say it as he sees it', and Mike Saltern said, "I have always depended on his wise words."
Whilst Alan Knight said that he had always enjoyed the intellectual stimulus of being a Governor at the College and that he had seen a whole series of changes reflected at both government and school level.
He also complimented the College by stating, "I have never failed to be impressed by the dedication, enthusiasm and heart-warming approach all staff have towards the College and its students. If I had a youngster, I would be very happy for them to attend the College."
Alan received a framed print of the river Erme, in Ivybridge, which was a print of a former Year 13 student's A Level examination piece.