Helen Reddy, one of Britain's Classroom Heroes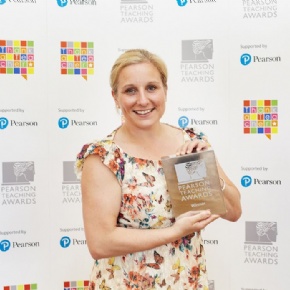 On Sunday, 21 October 2018 Helen Reddy, together with her husband and a number of senior College staff, attended the prestigious Pearson Teaching Awards.
Helen was one of 71 Pearson Teaching Award winners from across the United Kingdom. Selected from over 300,000 nominations, she has received the honour of a Silver Teaching Award. These awards celebrated 20 years of celebrating transformational teaching. Lord Puttnam set these awards up to celebrate and recognise excellence in education and to honour the dedication and hard work of teachers.
Steve Munby, Chairman of the Teaching Awards Trust said, "I know that everyone will join me in congratulating all the winners here today."
Whilst Michael Morpurgo, President of the Teaching Awards Trust said, "Teachers are the quiet heroes. We should honour them, for they have in their care the next generation, our whole future, and I would like to wholeheartedly congratulate each and every finalist here this evening."
Helen was one of 10 finalists for the Award for Teacher of the Year in a Secondary School. The key reasons why she achieved this accolade were because Helen Reddy is a qualified PE teacher and Head of Performing Arts at Ivybridge Community College, in charge of GCSE Dance, and Head of the Gymnastics Academy. Helen's passion for performing arts subjects is infectious and she enthuses students to develop a love of their subjects, making learning enjoyable. With a huge emphasis on impact and increasing the number of boys and girls benefitting from performing arts subjects and physical activity, Helen specialises in ensuring all students can get involved in something they enjoy. She has created and directed the College's annual Performing Arts Show for the past 14 years, which has seen 5,000+ students performing to sell out audiences. Her school gymnastics team is also among the most successful in the country, winning more than 15 plus national titles under her guidance.