Students Achievements Celebrated at Annual Awards Evening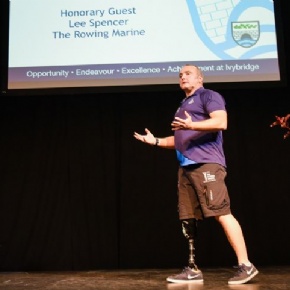 At the start of the term, Ivybridge Community College held its annual Awards Evening, which celebrated Endeavour, Performing Arts and Sport and Academic Achievement at GCSE and A Level.
The event was a recognition of the students' examination successes in this year's public qualifications. Over 250 students were invited and musical interludes were performed by an array of students. These included:
"Rag 'n' Bone Man Medley" performed by the Performing Arts Ensemble,
"Skyfall" by Adele, performed by the Big Band,
"Blue Moon" by Lorenz Hart and Richard Rodgers, performed by Saxsequential,
"This is Me" from the Greatest Showman, performed by the Musical Theatre Group.
We were very privileged and delighted to have as our Honorary Guest, Lee Spencer, known as the Rowing Marine. His heartfelt and inspirational talk captivated the audience – both students and parents alike. His motivational speech was directed to our students and he expressed the requirement of perseverance and true grit, as well as learning from your failures, if you are to succeed in life.