Taylor Foxwell-Moss represents England in Commonwealth Fencing Championships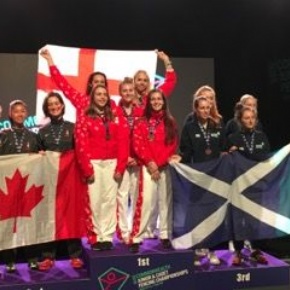 Year 12 Ivybridge Community College Student Taylor Foxwell-Moss represented England in the 2018 Commonwealth Junior and Cadet Fencing Championships.
The event was held in Newcastle from Monday, 23 to Monday, 30 July with a total of nineteen nations competing; the championships comprised of Cadets (U17) and Juniors (U20) each participating for 4 days in individual and team events.
Taylor was selected to represent England at both Cadet and Junior level so a punishing eight-day schedule lay ahead of her and she tackled it with a determined and mature attitude.
The first event on the programme was the Cadet Women's Epee and after V3 –D1 in her poule, Taylor was seeded 7th and given a BYE through to the Direct Elimination (DE) and last 32 (L32) where she faced strong opposition in the form of Sophie Tweedle from New Zealand, but a focused performance saw her through to the L16 with a solid 15-9 victory. Her next opposition came from Jenna Alis Junady from MAS, but once again Taylor's strategy proved too much and another 15-9 victory was secured. Through to the Quarterfinals, L8, Taylor faced an England teammate who, on this occasion took the win 12-15; it was a nail biting fight but Taylor was the first to congratulate her team mate and wish her the best for the remainder of the competition. A final ranking of 6th was a fantastic result in a field of very experienced and strong competitors.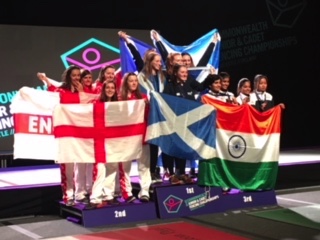 Next it was the turn of the Cadet Women's team to perform and, as always, Taylor proved a strong team member and, with her four colleagues, they stormed through all the way to the semi-finals with a sound victory over Malaysia 45 – 25 where they met a very strong Indian team; not a team to shy away from a challenge, the England team worked hard to bring home a 45 – 38 victory and secure a place in the finals where they faced Scotland. The final was every bit as exciting as one would expect with the lead changing at every period; Scotland had a point to prove as the teams entered the final period 40-40, and proved too much for the final fencer to handle with England losing 43-45. Although the team was disappointed, they came away with a very well deserved Silver medal and big smiles.
The Junior competition commenced on the Friday, 27 July and once again Taylor found herself on the piste as an individual facing tough competition from much more experienced and older fencers. After a rather shaky start in the poules and with only V2 – D3 Taylor was seeded 22nd but still managed to gain a BYE through to the L32 where she faced a very strong and talented Ghanaian fencer seeded 11th, Yasmine Foshu, and an old adversary. Determined and focused, Taylor matched her opponent point for point throughout but it was in the third and final period that Taylor edged her way ahead by 1 point and then 2, eventually taking the victory 15-13; an incredible match. Yasmine congratulated Taylor on her victory and then supported Taylor for the remainder of the competition. Now through to the L16, Taylor faced the 6th seed, one of the top Canadian fencers, Kira Belaoussof, but with good wins already behind her, Taylor took to the challenge and although she was behind after the first period 3-6, she proved too strong for Kira in the second and came away with 15-9 victory; this saw her through to the Quarterfinals once again (L8) where she faced an older England teammate, Alexandra Powell. The match was a real cat and mouse event but Alex eventually took the win 15-10 proving too strong in the final period. Taylor's determination in this event saw her rise up the rankings and she finished a very respectable 8th.
And so the final event was upon her, the Junior Women's Epee Team and their first match was against New Zealand but England proved the better team and came away with a 45-15 victory to see them pitted against a fellow 5 Nations country, Wales. Wales fielded a very strong team but England fought hard and once again victory was achieved 45-31 to see them through to the finals where they met the CAN team. The final saw England take an early lead and maintain it throughout to walk away with the victory 45-34 and the Gold medal!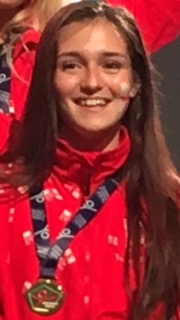 Overall it proved a fantastic experience and to bring home a Gold and Silver medal from the Commonwealth championships is the icing on the cake to what has been a long and, on occasions, difficult season (blunt trauma injury sustained at the World Championships in April and the long rehabilitation period following prior to these championships), yet highly successful final season as a Cadet - an excellent lead into competing as a Junior on both the UK domestic and international Junior World Cup circuits during the forthcoming 18/19 season.
Taylors' standings as at the end of the season:
Cadet Women's Epee (UK) 3rd
Junior Women's Epee (UK) 4th
2018 European Championships 48th
2018 World Championships 83rd
2018 Commonwealth Junior & Cadet Fencing Championships:
Individual:
Cadet Women's Epee 6th
Junior Women's Epee 8th
Team:
Cadet Women's Epee Silver Medal
Junior Women's Epee Gold Medal & 2018
Commonwealth Junior Championship Champions