Reece and Jess placed fourth at National Finals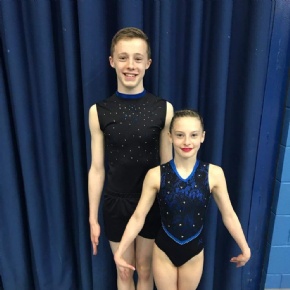 Over the weekend of May 18 – 20, Ivybridge Community College Year 10 students, Reece Parkin and Jessica Rouse, competed in the mixed pairs finals at the Acrobatic Gymnastics National Development Plan Competition, in Stoke on Trent, finishing in a fantastic fourth place.
The pair were narrowly pipped to the Gold medal position by a partnership from Southampton Gymnastics Club. Reece and Jess's fourth place follows their Gold medal performance at the regional preliminary competition in Yate.
"We are extremely proud of Reece and Jess," said Helen Reddy, Head of Performing Arts, "and they're certainly demonstrating the high level of gymnastics and overall performance that come out of Ivybridge Community College. This is their first national level competition against gymnasts from other full-time clubs, but nevertheless they performed their routines with exceptional style and passion. They scored highly in execution and for artistic performance and both are extremely talented gymnasts and dancers."
The pair scored 26.35 out of a possible 31.5 marks, which left them just 0.35 behind third place. "We've seen a huge improvement in both Reece and Jess over the past year," added Helen. "In addition to the technical skills needed, acrobatic gymnastics also requires a huge amount of creativity, body awareness and choreographic skills. Reece and Jess's stood out at the competition for their artistic merit."
In the run up to the competition Reece and Jess trained together for around four hours per week as members of the Gymnastics Academy. To view Reece and Jess's routine visit https://youtu.be/Z-GG4A6Nth0