Active Ivybridge Big Event 2018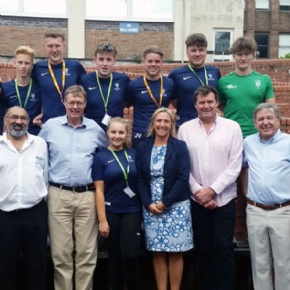 On Sunday, 1 July, Ivybridge Community College hosted the Active Ivybridge Big Event. Running since 2014 as part of the Ivybridge Big Weekend, the event raises awareness of what activities take place within the local community, to promote healthier and more active lifestyles.
Local sports clubs and organisations were given the opportunity to show case their activities, allowing members of the public of all ages to get involved and try for free.
Due to the terrible weather in the morning, the outdoor events were postponed, although this did not dampen spirits. In total 25 different groups showcased covering a wide spectrum of activities. As well as main stream sports such as football, taekwondo and netball there were some non-traditional activities such as wheelchair basketball, new age kurling and archery. The event was supported by Year 12 BTEC Sport Students, who were Young Leaders for the day, having received leadership training from Active Devon.
The event would not have been possible without the support of Active Devon, Ivybridge Community College, Ivybridge Town Council, South Hams District Council, Local Police and the local community. Thank you to all involved for making the event a huge success.