'Teach Like a Champion' 2 day Conference with Doug Lemov, 28, and 29 June 2018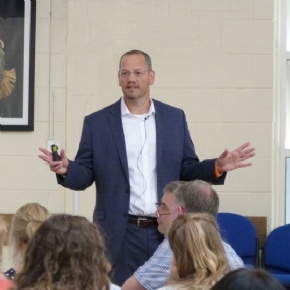 Thursday, 28 June, saw Ivybridge Community College welcome Doug Lemov, and his colleague Colleen Driggs, all the way from America to deliver an inspiring workshop to all of our teaching staff.
He opened the conference by stating, "Teachers do the most important work in society", and "are responsible for the hopes and aspirations of the child and parent, whose eyes you are looking at". These very powerful statements set the tone of the training session ahead.
Doug Lemov is renowned for his publication 'Teach Like a Champion 2.0', which has revolutionised Teaching and Learning in the schools that have employed his collection of techniques. As a College we have been discovering more about these techniques during the course of this academic year and are excited about launching our new Learning Strategy in September 2018 with these at the heart.
In the middle of a British heat wave and with the England football game starting imminently, staff still gathered enthusiastically for this unprecedented training opportunity to learn more about these transformative teaching techniques. There was a chance to watch videos of the techniques being used and then analyse the impact of them on learning in the classroom; we then had to put ourselves in the hot seat in planning and practising the techniques with colleagues. One member of staff commented, "This is the best workshop I have ever attended. It is amazing to focus entirely on the craft of the classroom." We are looking forward to sharing what we have learnt with the students as part of their induction in September.
On Friday, 29 June, the fantastic training continued and we welcomed twenty five colleagues to the College from across the country – spanning Devon, Cornwall and even up to Nuneaton and across to Kent. This session focused more on the writing techniques of 'Teach Like a Champion' and it was an amazing opportunity to have rich discussions with colleagues and receive training directly from Doug himself. We feel very privileged and we are looking forward to our continued relationship with Doug Lemov and his team as we further embed our Learning Strategy at the College.