Evening of Shakespeare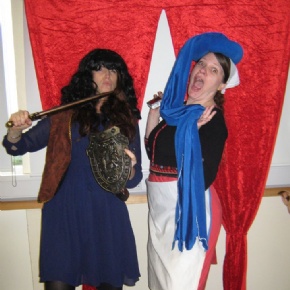 On Tuesday, 24 April, Ivybridge Community College took a step back in time to the Elizabethan era, when the English Department hosted an 'Evening of Shakespeare' for Year 7 and 8 students and their parents.
Our guests were immersed in Shakespeare from the minute they were greeted at the doors by the Year 12 English Literature students, and given a chance to perform a section of one of Shakespeare's most famous plays, while being cheered on by Mrs Pitcher dressed up as an Elizabethan peasant.
They then followed their parchment maps around the College, moving from an informative presentation given by the Director of English, Mrs Fairclough, on why students should engage with Shakespeare and the relevance of Shakespeare to their future GCSE studies, to the Library where there was a Globe Theatre making competition for parents and students.
In the Dining Hall, parents and students were served with refreshments and given the opportunity to try and crack Shakespeare themed puzzles and games created by the Year 7 students themselves. Miss Smith encouraged the students to take on their parents in a Shakespearean 'Insult Off', Miss Sheridan challenged students to be blindfolded and 'Pin the soap on Lady Macbeth's bloody hands' and everyone worked together to guess if the poetic lines were 'Shakespeare or [Taylor] Swift'. All of these fun stalls were surrounded by the work of Year 7 and 8 students, from excellent essays to detailed designs, the work was outstanding and showed parents and carers the amazing effort their children put in to their lessons at the College.
To top it all off, Miss Thorne hosted a 'Tavern Quiz', which not only informed the quiz teams on 'all things Shakespeare' but entertained them greatly as well.
Overall, it was a wonderfully entertaining and informative evening, filled with a love and an appreciation of Shakespeare.
Archie Duke, Year 12