Girls' U14 Futsal National Finals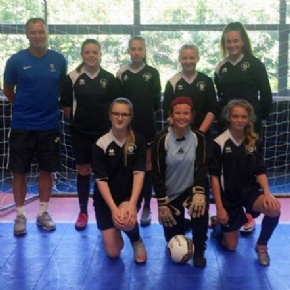 On Sunday, 24 June the Ivybridge Community College Girls' U14 Futsal Squad of Year 8 students Kristyna Cade, Jasmine King, Cat Rockett and Rosie Train, and Year 9 students Abbie Collicott, Maisie Frickleton and Holly Wade, represented the South West Schools and Clubs in the FA National FUTSAL Finals in Birmingham.
The Team came third in their group and unfortunately did not qualify for the knockout stages. They drew one game and lost the other two.
Dave Leonard, Head of Football at the College said, "They have made Girls' Futsal history. This is the first Girls' Team ever to get to a National Final of any kind from the College. We have surpassed any expectations we ever had and getting to the finals of a National Competition is unbelievable. This puts us in the top eight in the category of U14 Girls' Teams in the country, and a fantastic achievement from our girls. Well done to all of them."